Infiniti G35: Engine Paint & Lights Concours Auto Salon
Hello All,
Figured I would share with you some paint and lighting enhancements we did to an Infiniti G35S.
We had detailed the entire car several weeks back including the engine and the owner then wanted to add some bling so we suggested engine bay lights, interior lights and some engine paint to spruce it up.
So this "before" pic of the engine will not show a drastic difference between dirty and clean but more so to show the engine before the paint and lights.
We removed the engine cover and also the two covers over the battery and brake fluid areas. The major concern here is proper prep or the paint will not adhere to the plastic. This plastic needs to be "sweated" so to rid it of all the releasing agents used in the manufacturing process. So after that process, sanding and priming we laid down some candy red then masked that area off to lay down some metallic silver in the center area. Then cleared it.
We then began the lighting up process. We went with red throughout except for the Infiniti logo which was underlit with blue LED's
Here is the finished look.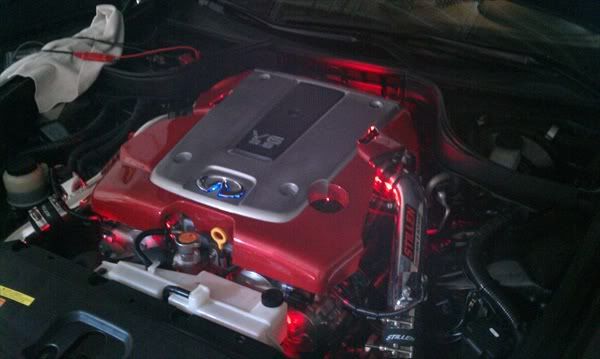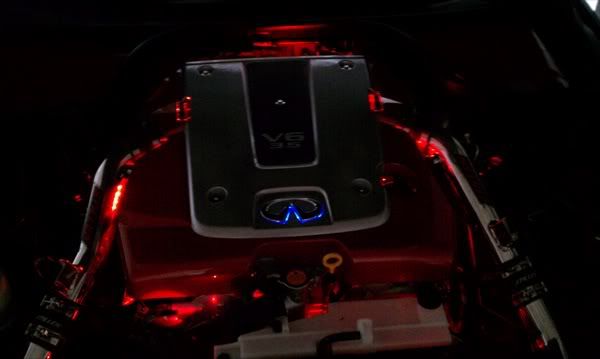 We also added some red LED's just above the tops of the chrome exhaust tips. These come on when the brakes are pressed.
This car is all black except for the brake calipers so to break up the black somewhat I painted the Infiniti wheels logos a candy red.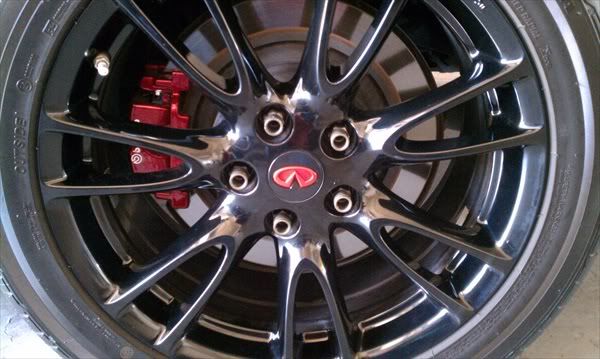 The chrome trim around the doors, which framed the glass, stuck out like a sore thumb so I painted those in a flat black.
We also added some interior lights, red also, to the foot well area and also to the doors side pockets and center console cup holders which gives the interior a slight red glow. To top it all off we installed some under body lights but I don't have any pictures of that work, sorry.
Well thanks for looking,
Anthony