Allow me to introduce you to my BBQ grill.....
'lil smokey
Check out his baby photo..... look at him, what a cute little thing he was, still blue and full of hope and a love for life.
'lil smokey
, for those who don't recognize him, is an empty 30lb R134 Freon canister.
And like most tasks I undertake, this adventure (as always) starts on my dining room table.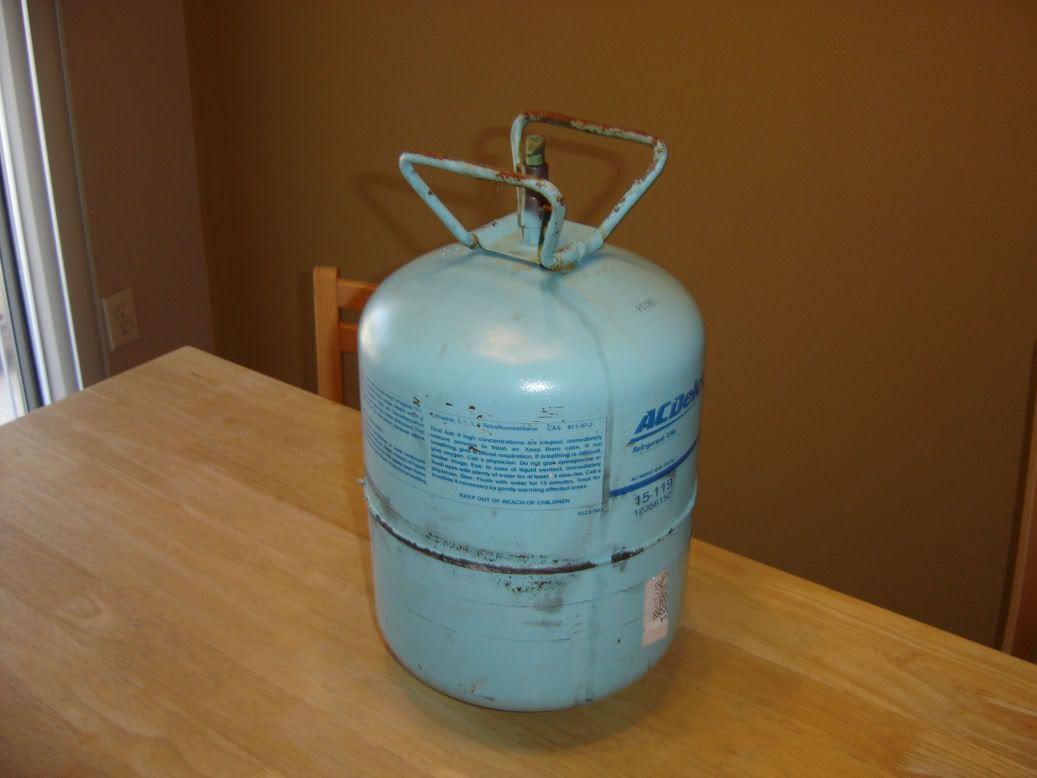 And here is
'lil smokey
after he had been sawed in half. (mucho thanko to Jeff and his mad jig-saw skills)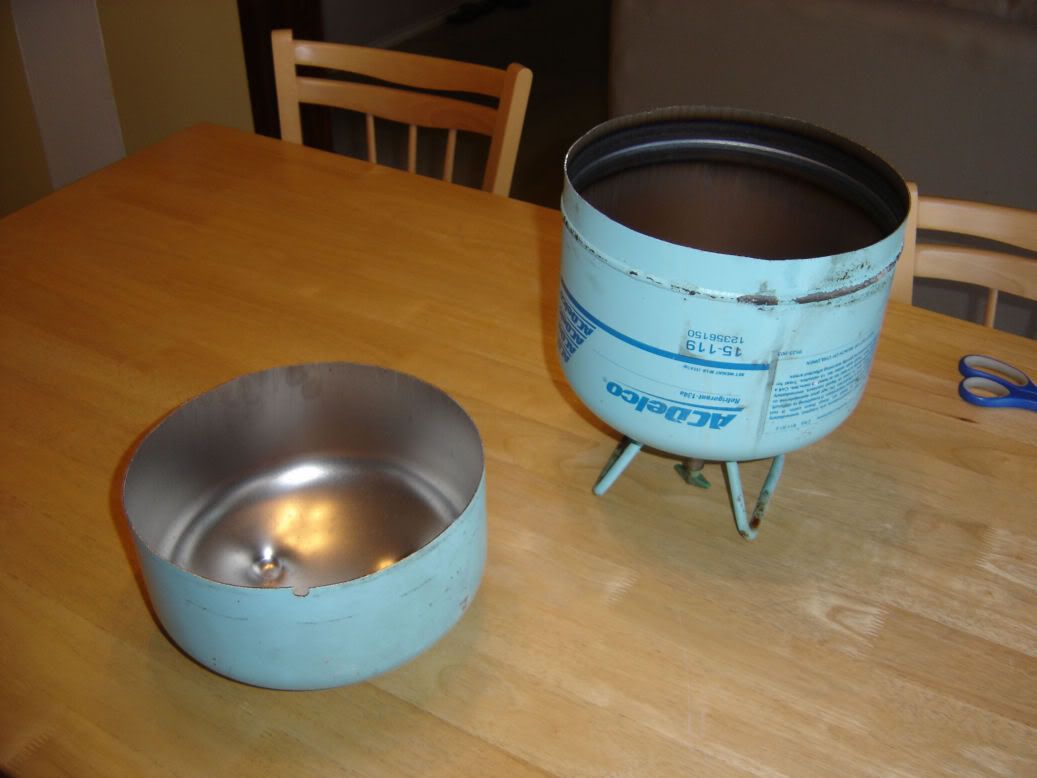 The canister, being that it was originally designed to carry freon, not brisket, had this pesky valve at the bottom that was keeping my grill from sitting correctly on it's little feets.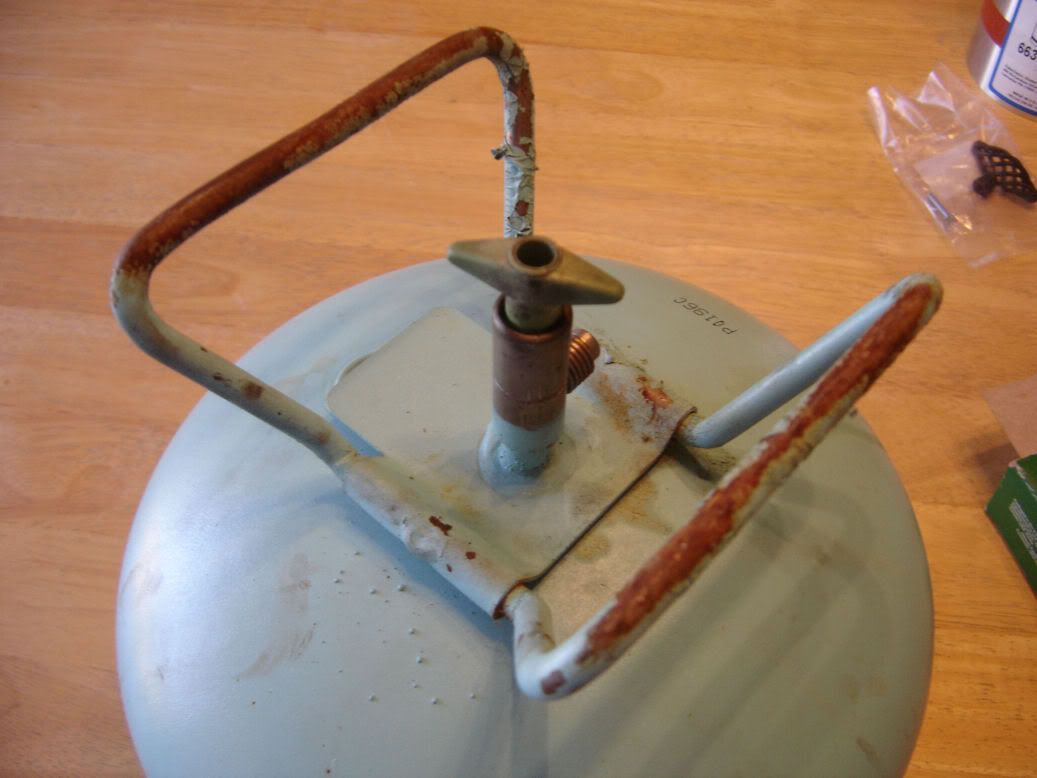 A hacksaw, a bit of swearing, and a few minutes later......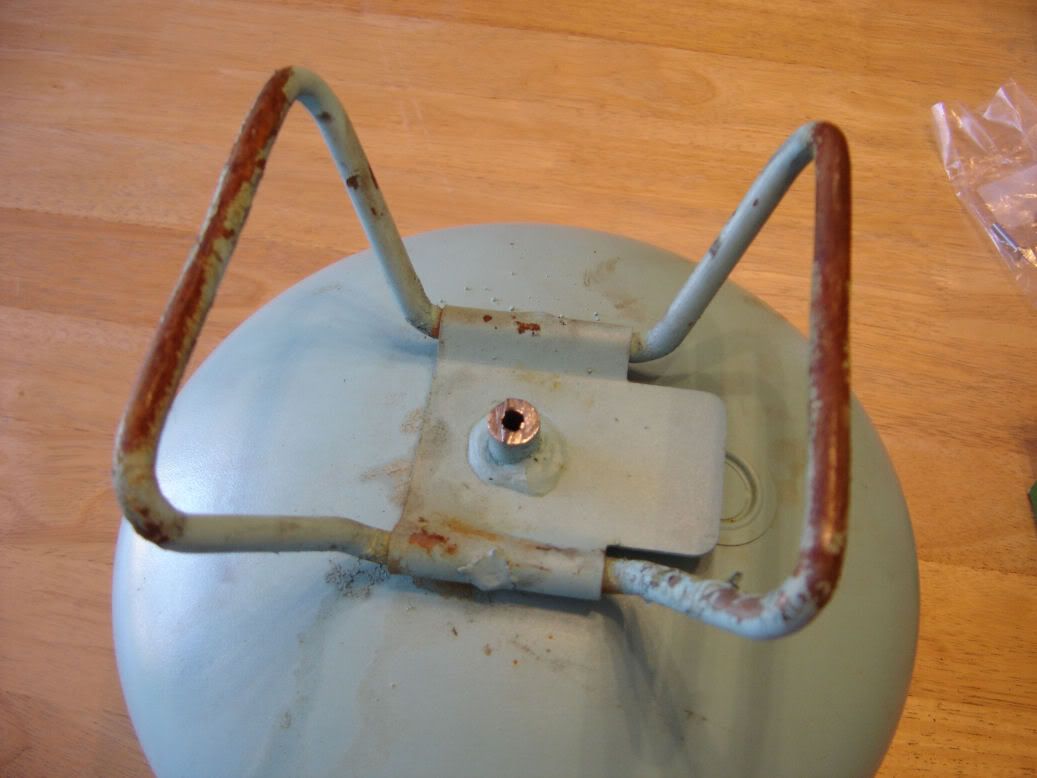 During project
'lil smokey
, I would also be employing this aluminum flashing I purchased at Home Depot for $5.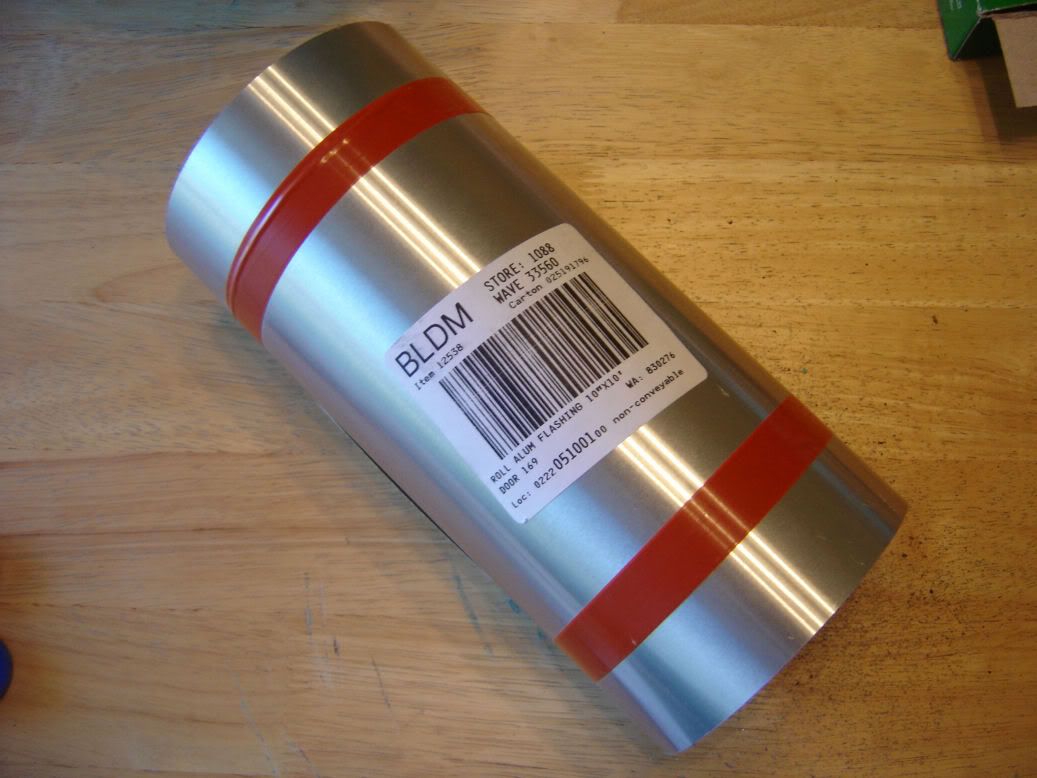 Check out the cool gold coating on one side, very much like the Apollo space program. And if it's good enough for our astronauts it's good enough for me!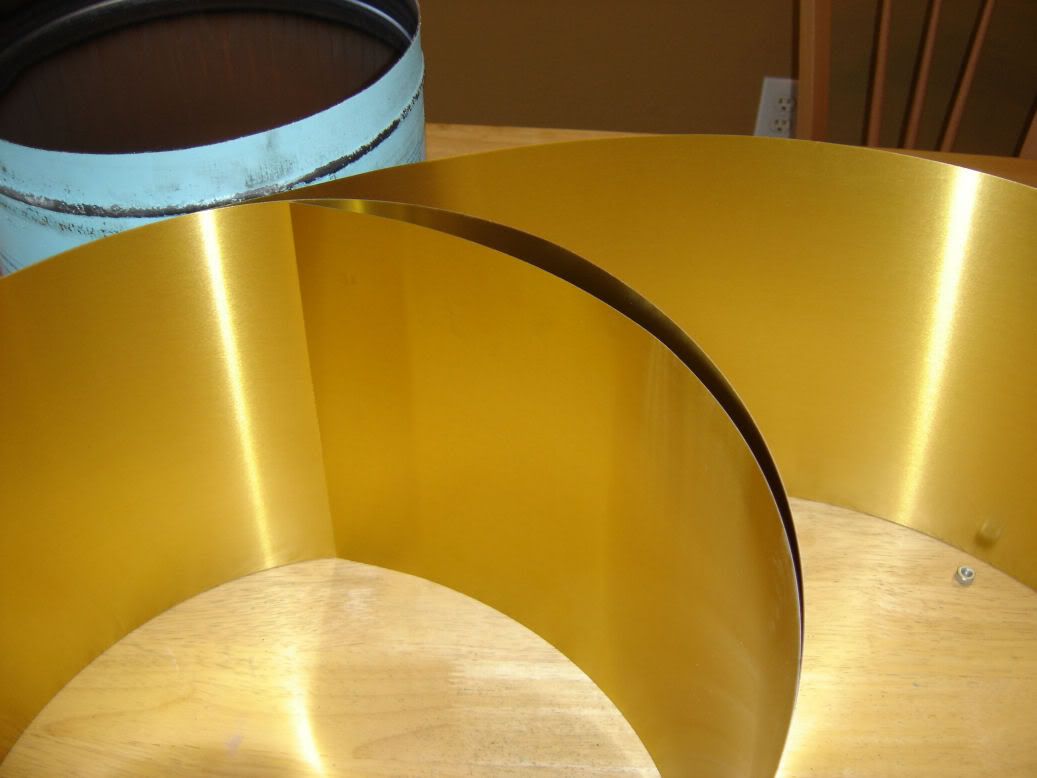 I would be using the flashing to make a lip so the top and bottom half of the canister would fit snugly, and also a second lip for the grill to rest on. The first thing to do was drill 8 equi-distant holes around the perimeter of the lower half of
lil smokey.
Note the change in scenery. Project

lil smokey

had moved from my dining room table to my place of work.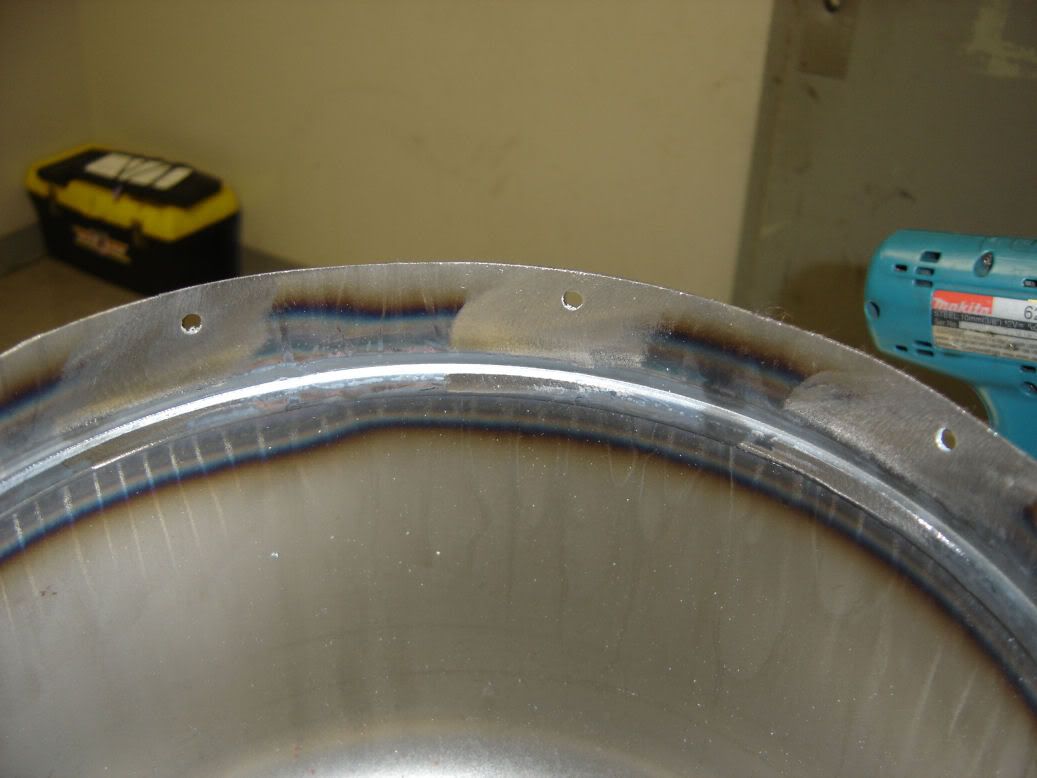 I then cut out a 1.5 inch strip of flashing and drilled a matching set of 8 holes for the machine screws to fasten to.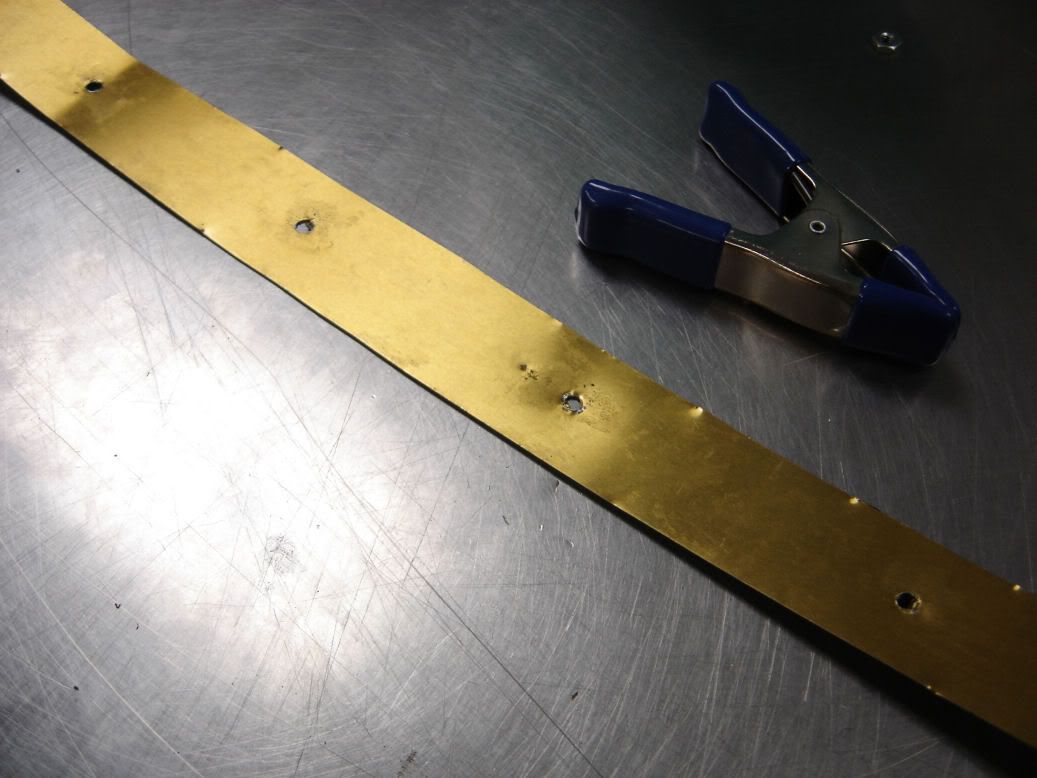 Like so. You will notice in this photo how the flashing had a non-rolled upper edge.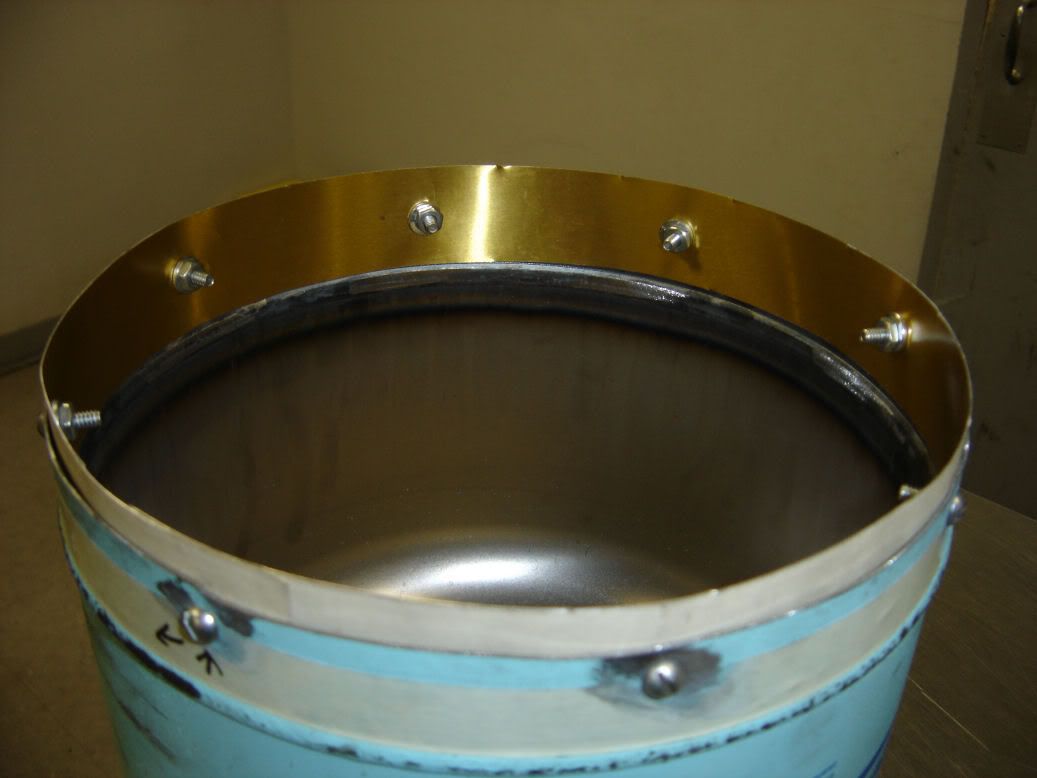 This made it difficult to get the upper and lower halves of the canister to fit together unless you kind of dicked with them a bit. And being as I figured I didn't want to try and tinker with the lid when it was 400 degrees..... something had to be done!
So I removed the blade from a can opener we had lying around work and used it as a crimping tool!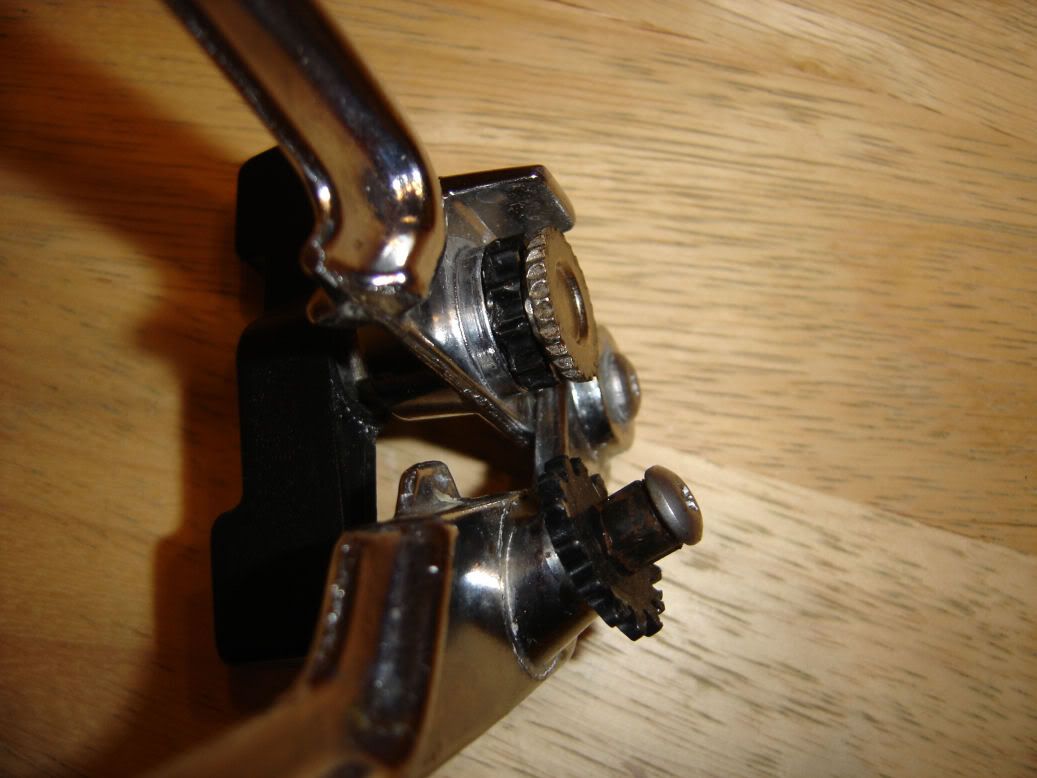 And the results...... I'm a genius!!!!!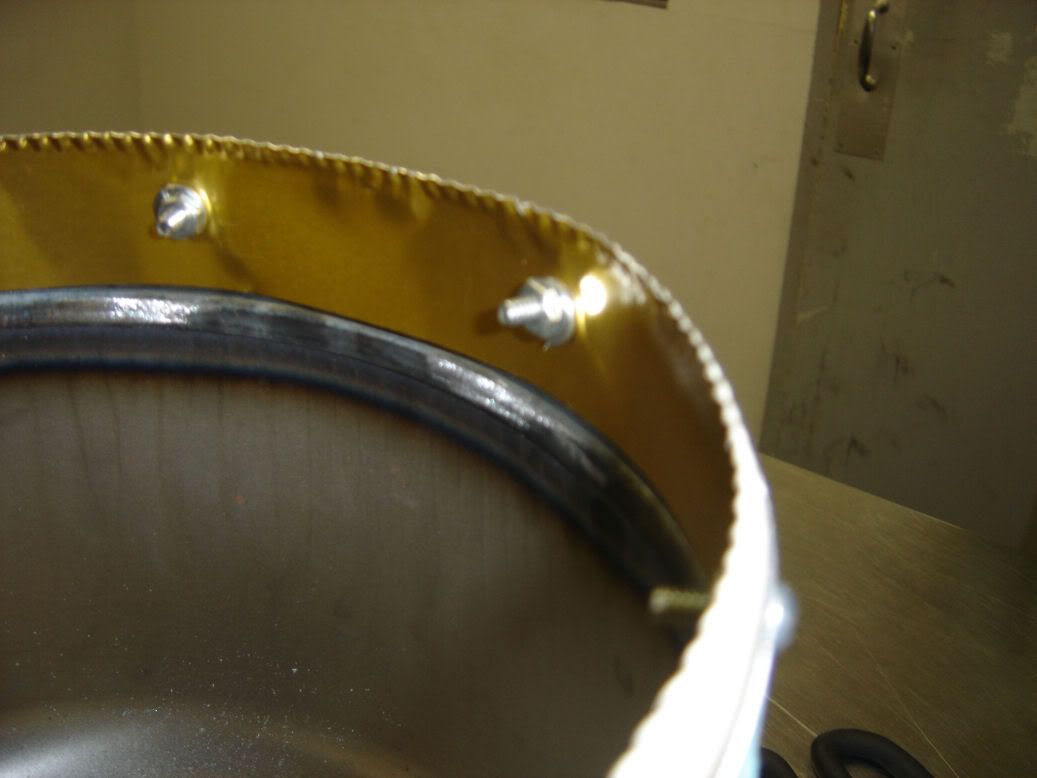 Lil smokey
was starting to come together!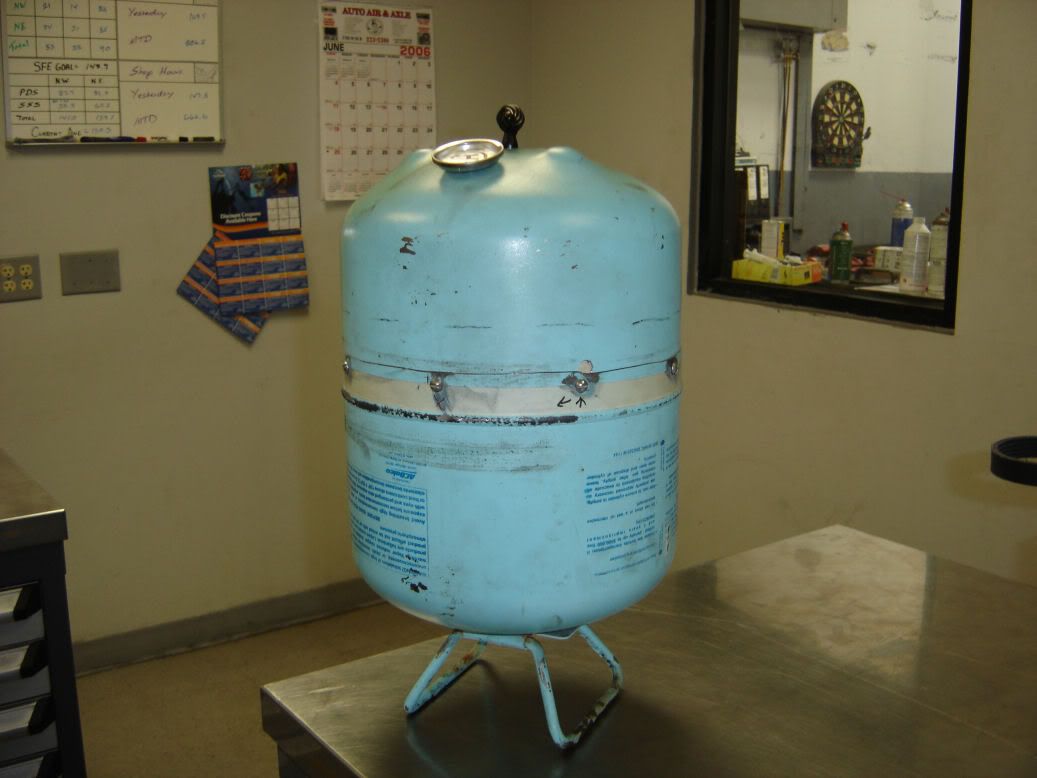 (intermission)
This is what happens when you leave your digital camera lying around work and then go to lunch.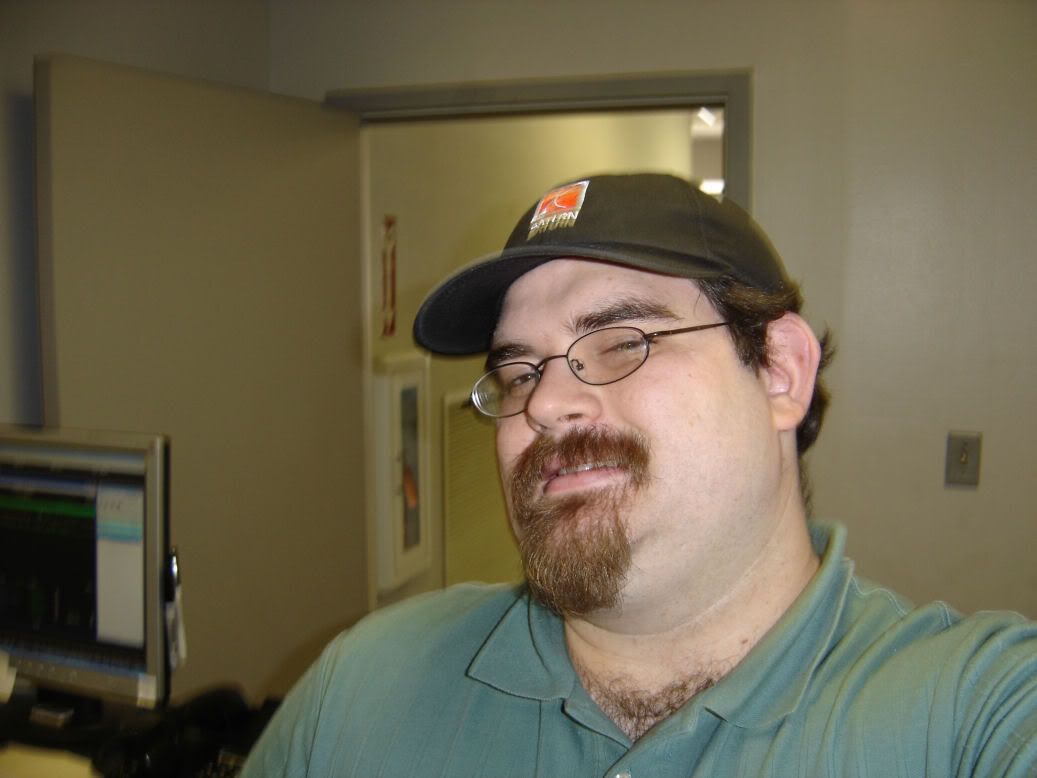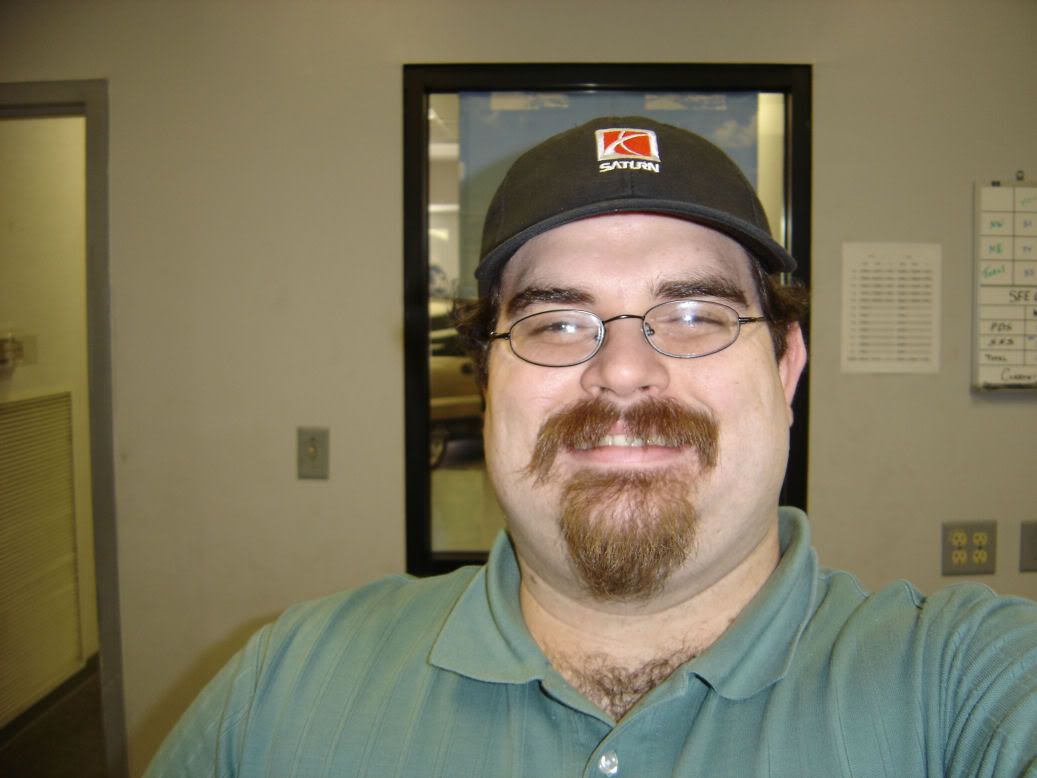 (end intermission)
I then made a thinner 3/4 inch strip of flashing and attached it on top of the first "ring o flashing"... like so.....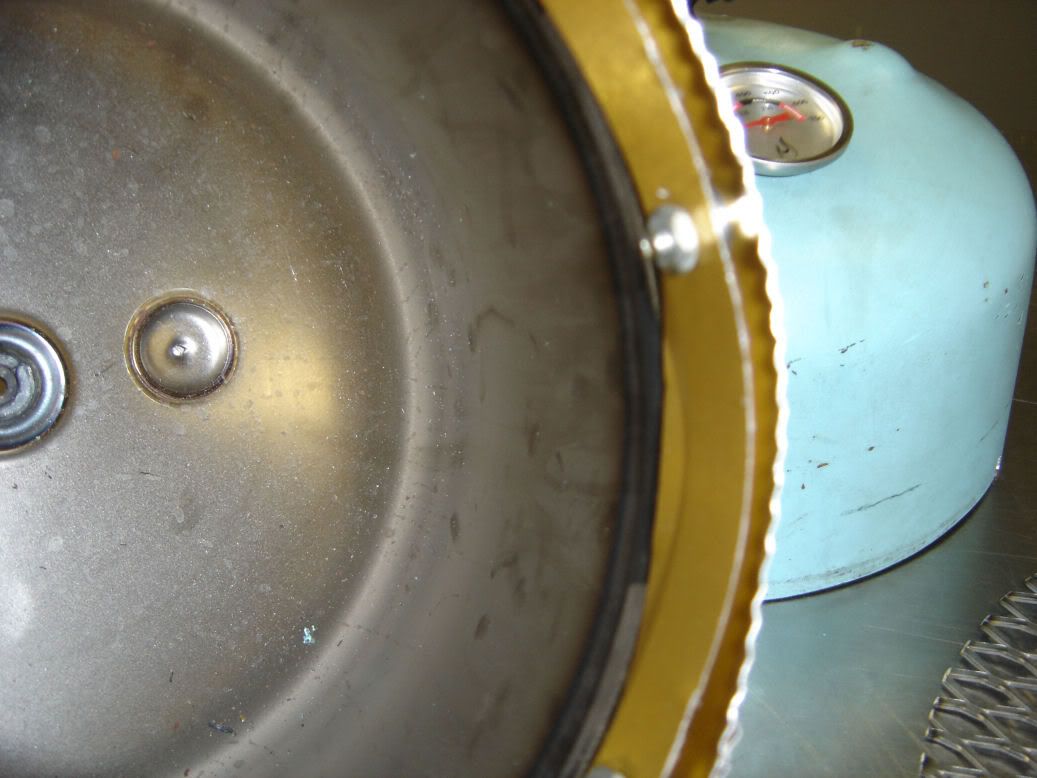 See how pretty the grill sits?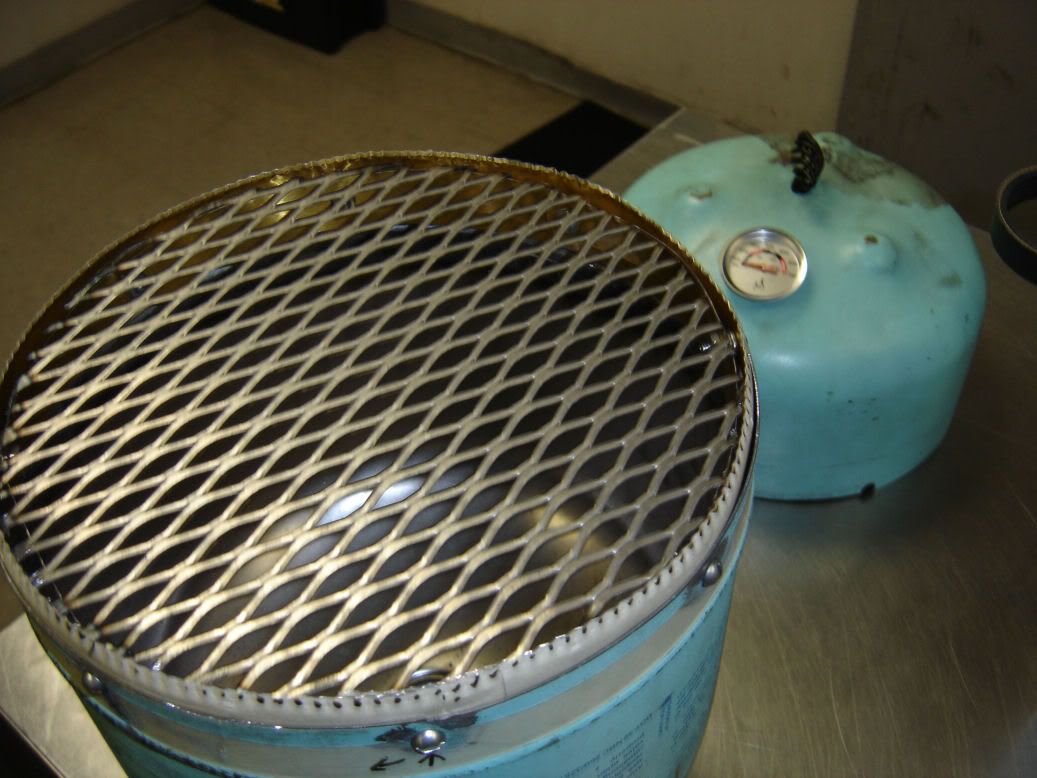 I then drilled three holes in the top of the canister (two small, one mega) for the handle, thermometer, and vent.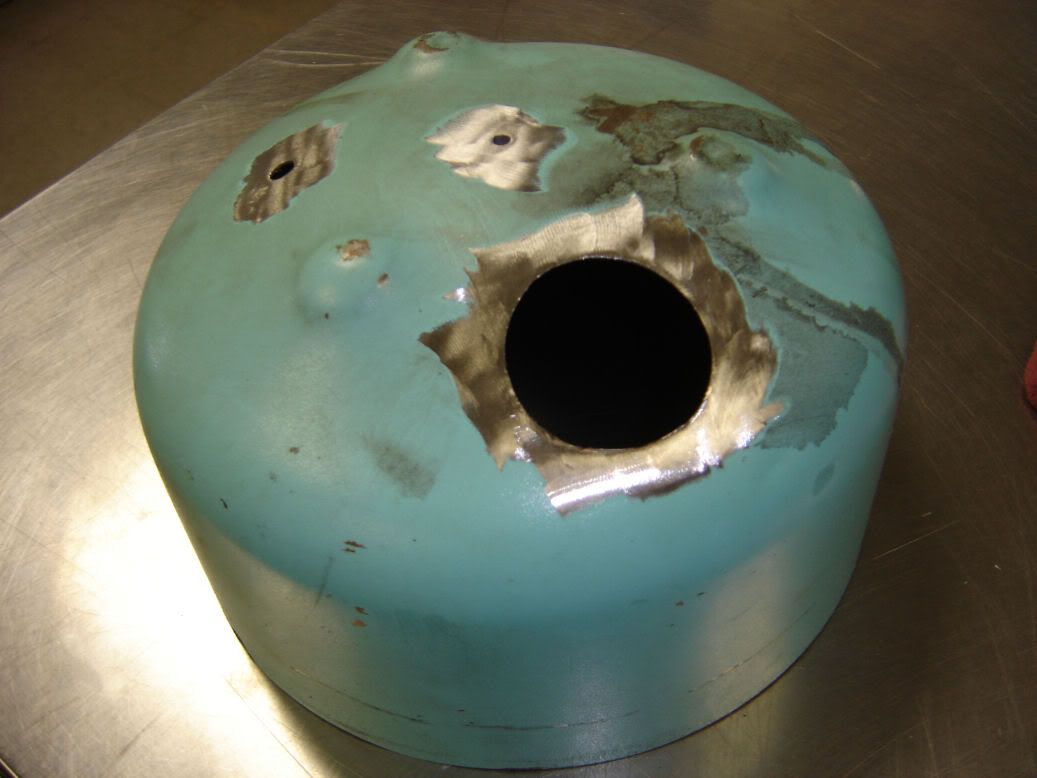 I found this vent in the roofing section of home depot, I don't know what it's actually supposed to be used for, but it looks damn fine where it's at! And as a bonus it always tell me which was is up!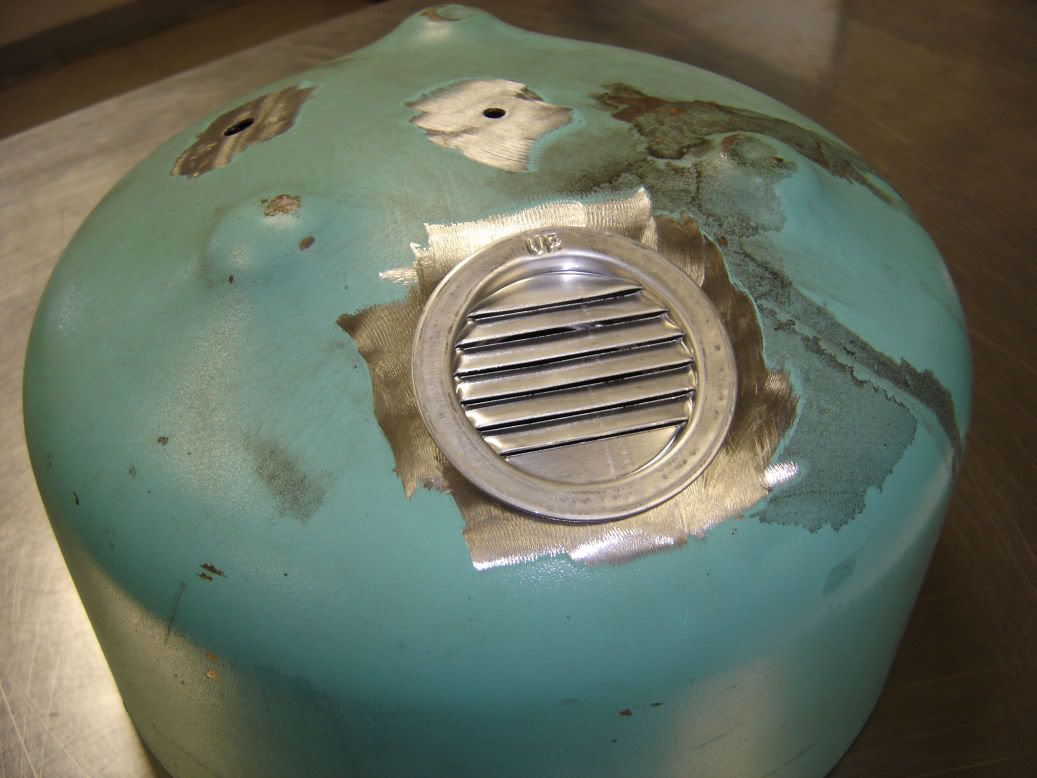 I then cut four 1/2 inch holes into the bottom for ventilation.
And cut a smaller grill for the bottom so the coals would have a happy place to live.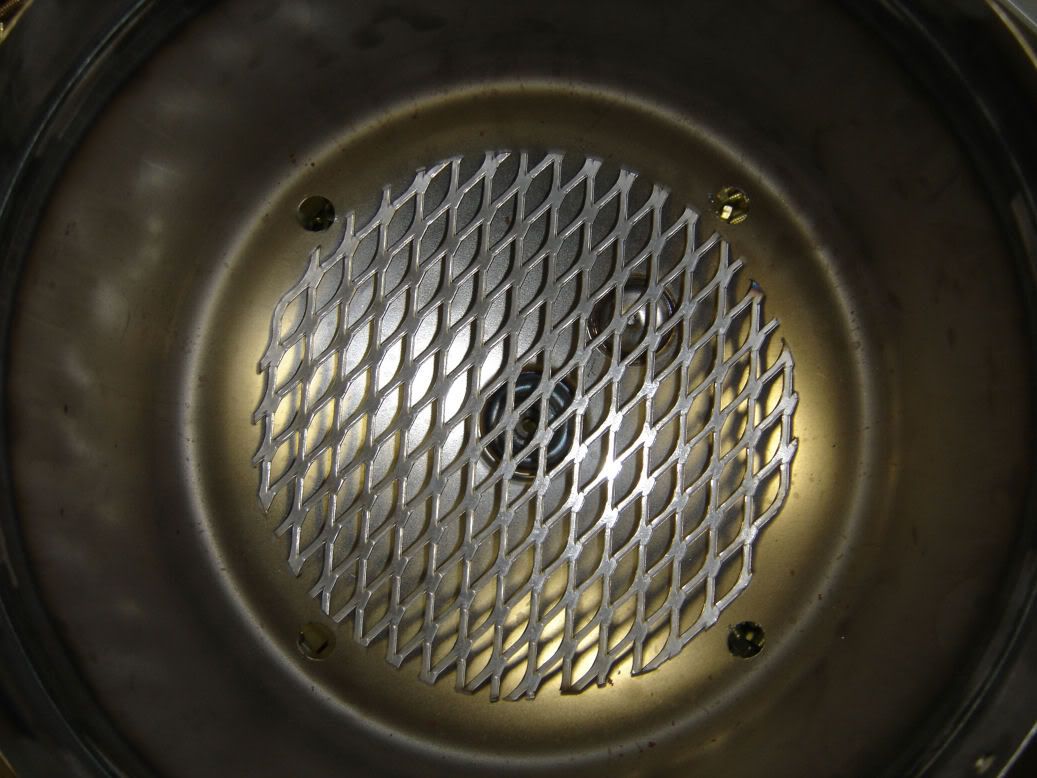 And then it was time for some paint!!!!! My lovely assistant
(see intermission) roughly sanded down the blue/aqua paint.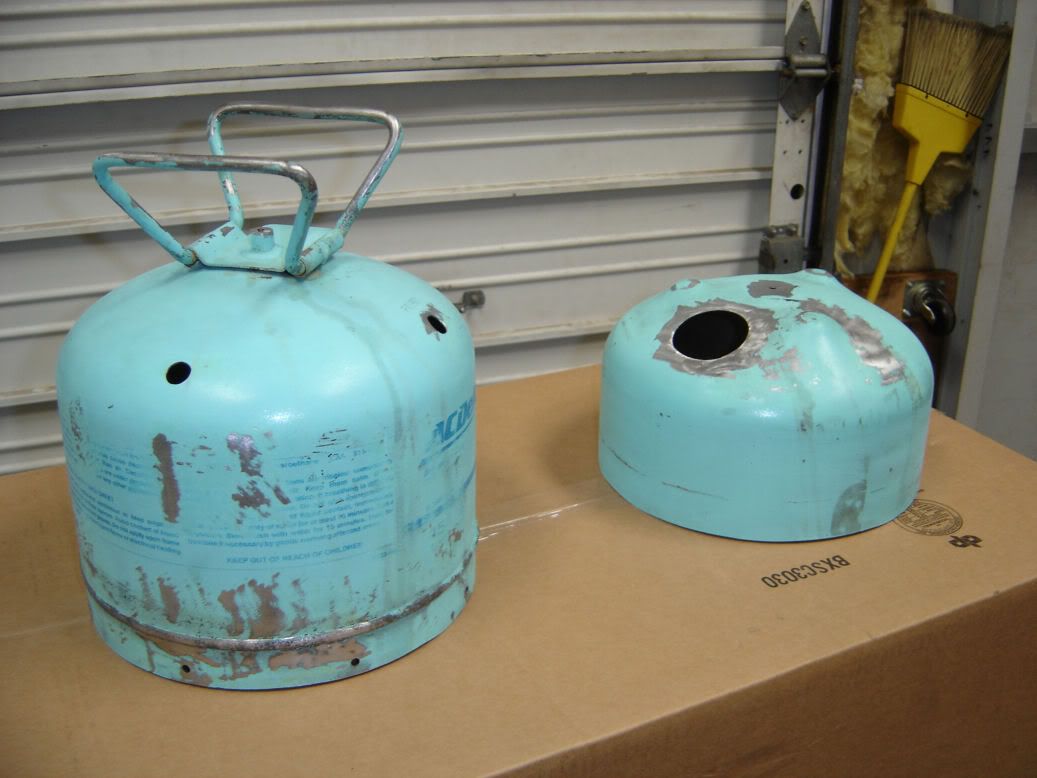 And then primer!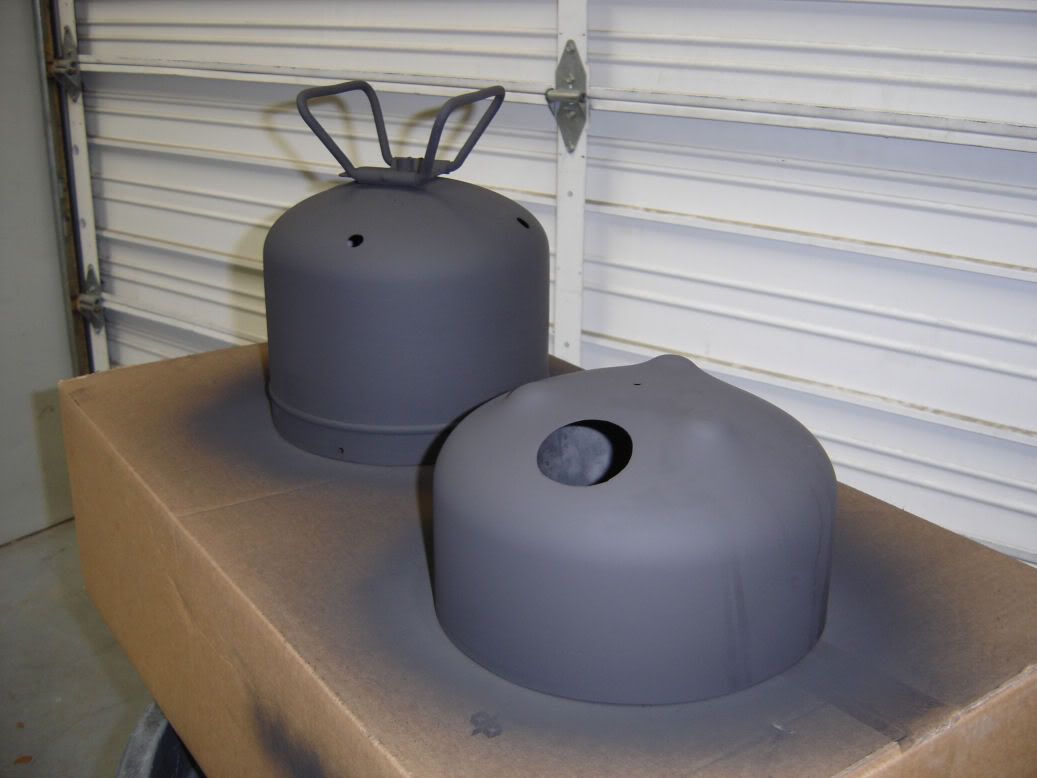 And then roughly 2-3 coats of black. But look at the results ladies and gentlemen!!!!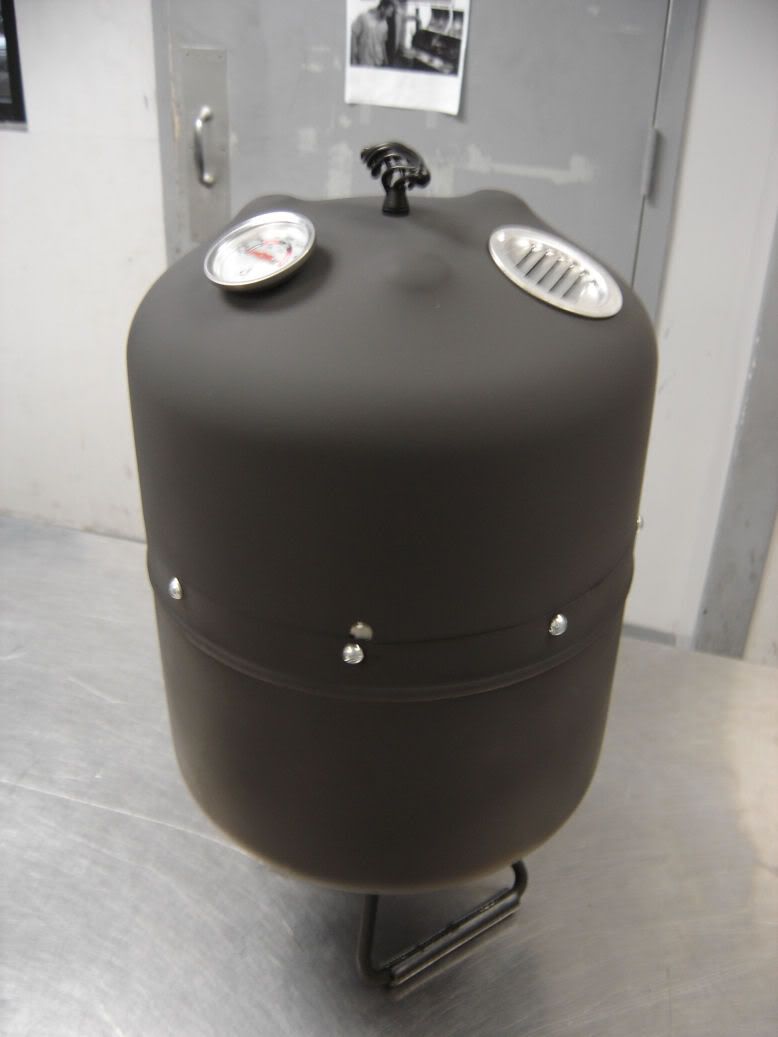 OOOOOOOOOOHHHHHHHHHH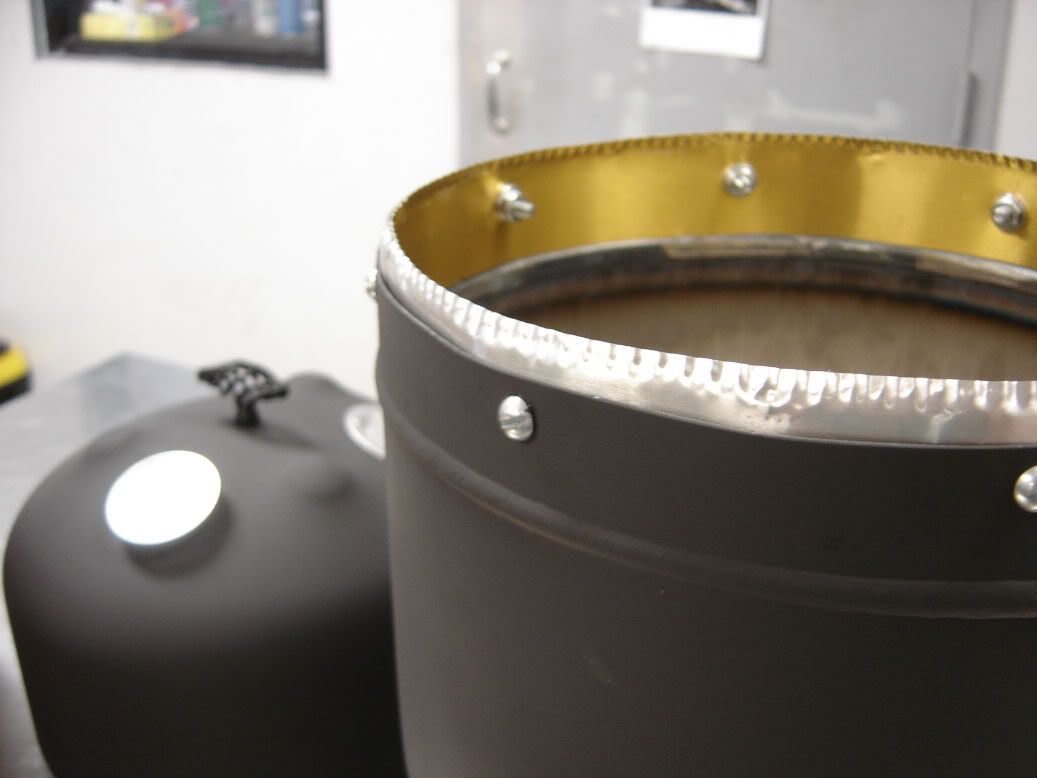 AAAAAAAAAAHHHHHHHHHHH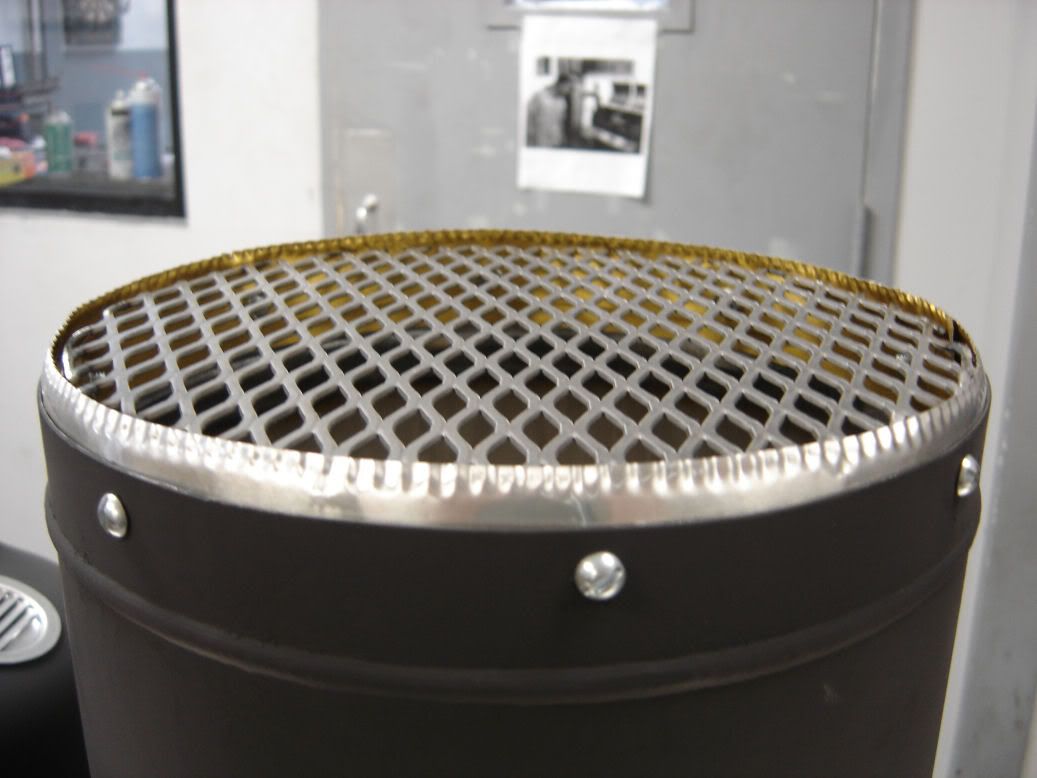 Lil Smokey
even comes with his very own "no slip" feets!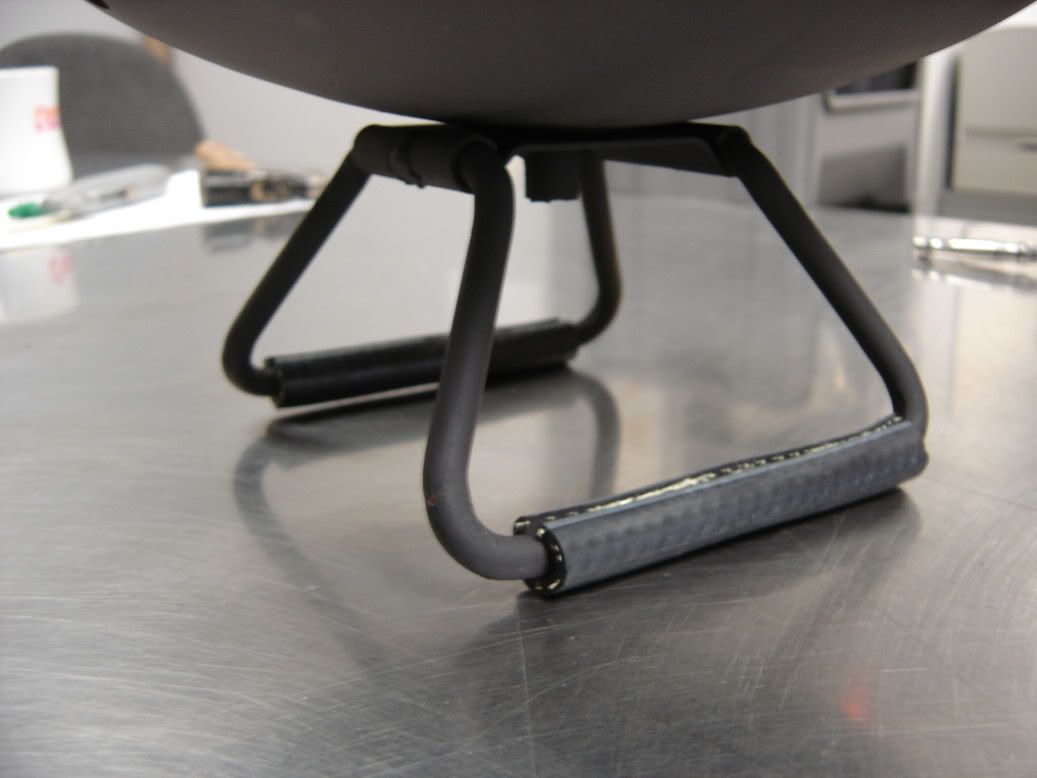 But what good is a grill (even one as good looking as
'lil smokey
) unless it perform with the best of them?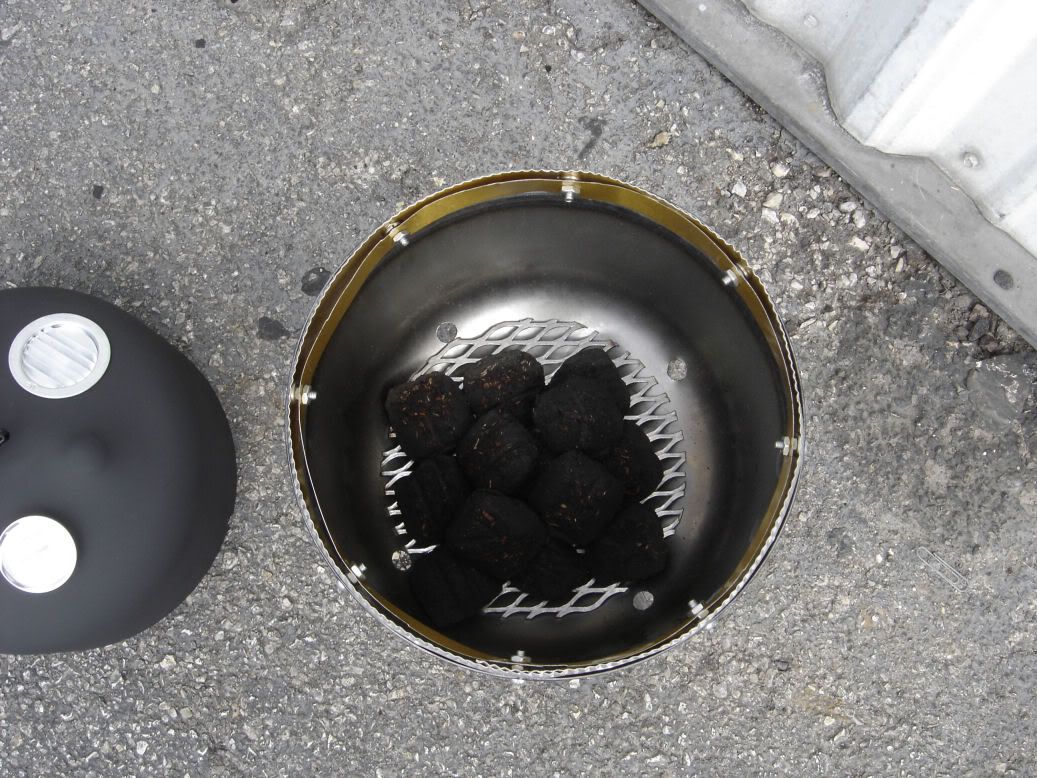 Well it was time for 'lil smokey to earn its keep. Burn baby burn!!!!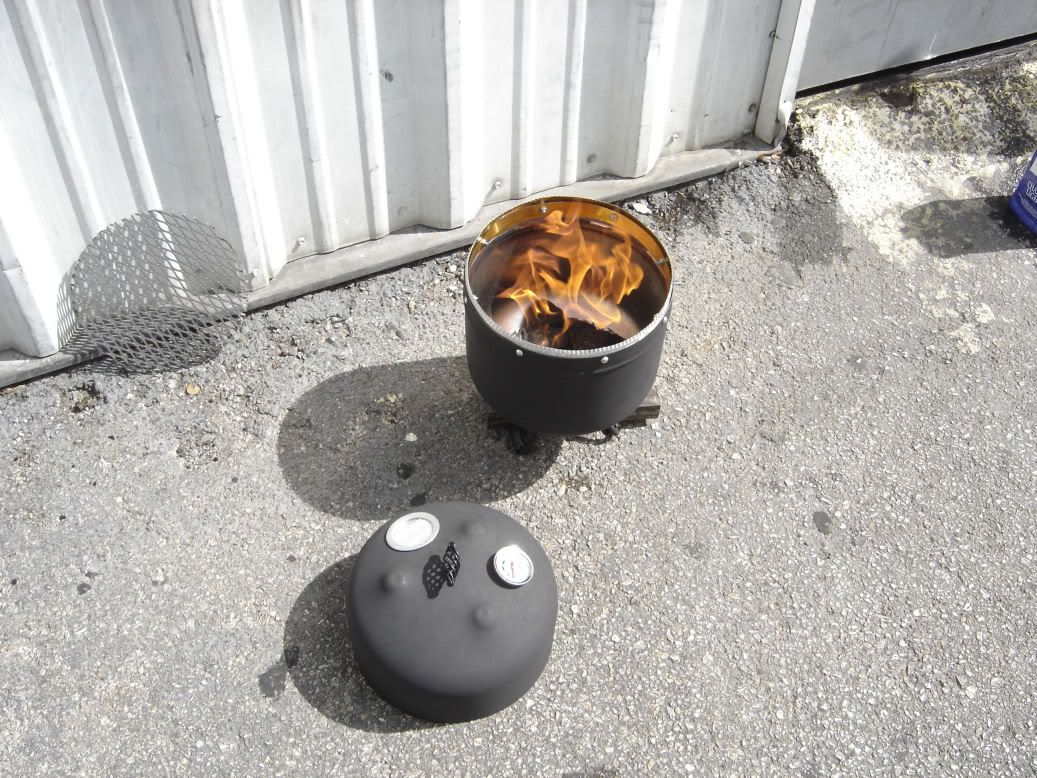 After the coals had lit I was freaking amazed at how well
'lil smokey
would hold onto heat.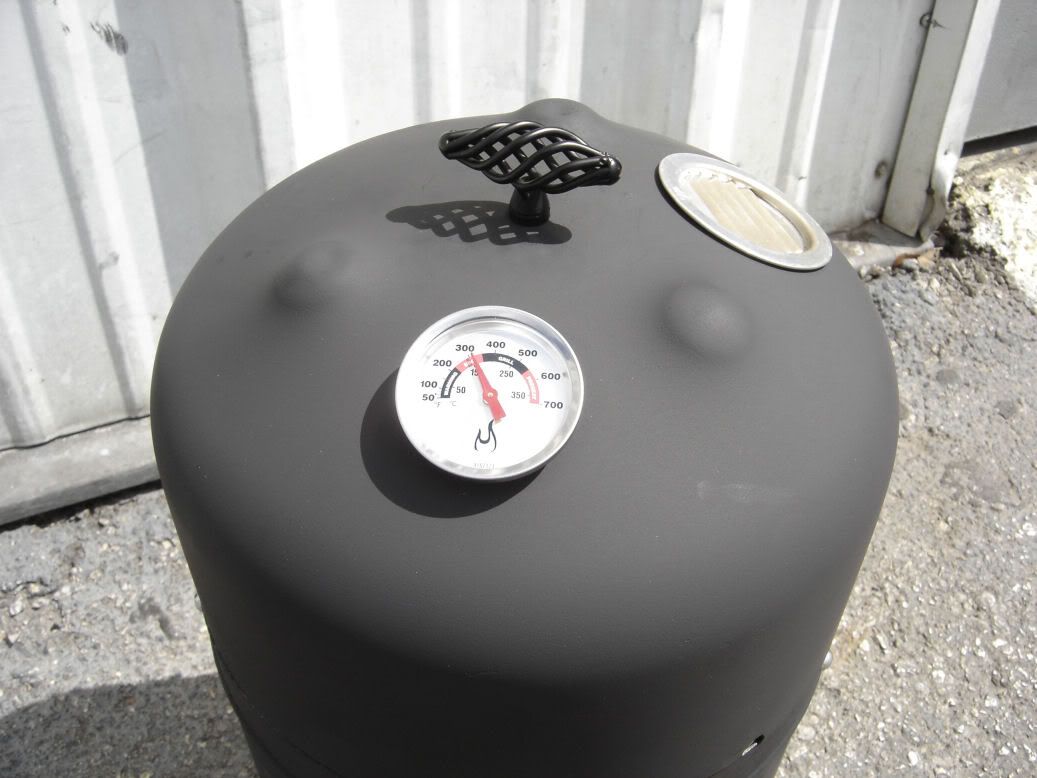 Look at 'lil smokey take those weiners like a champ! Seven at a time!!!!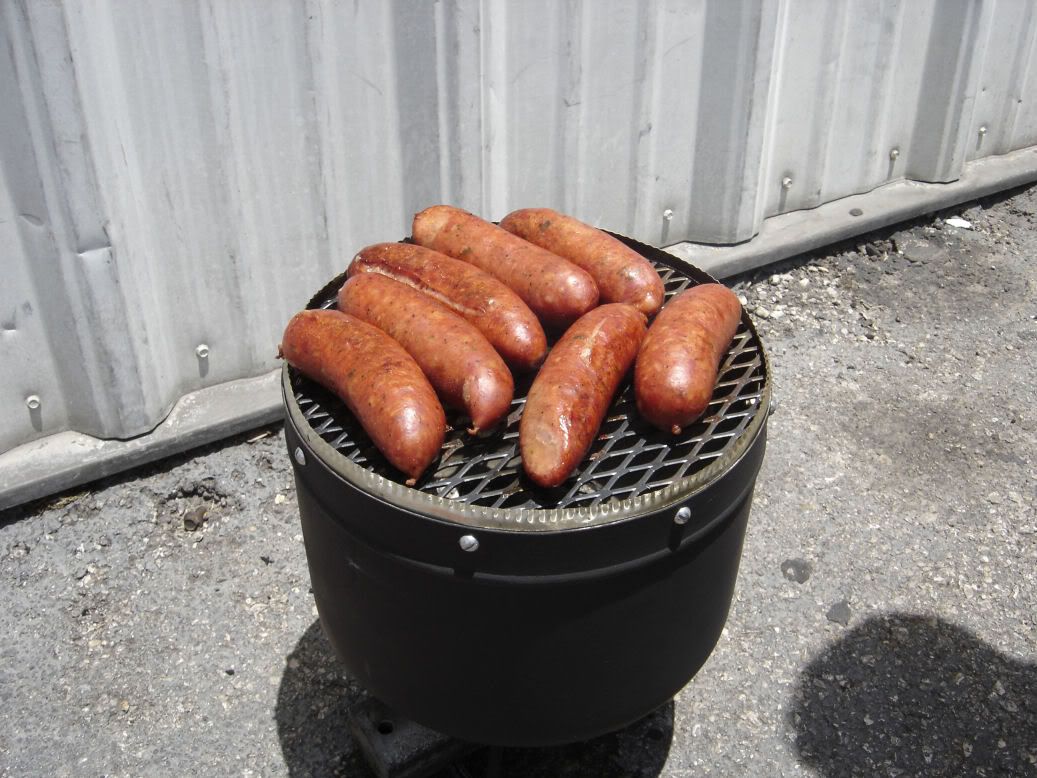 And how where they?????? Delicious I tell you!!!!!!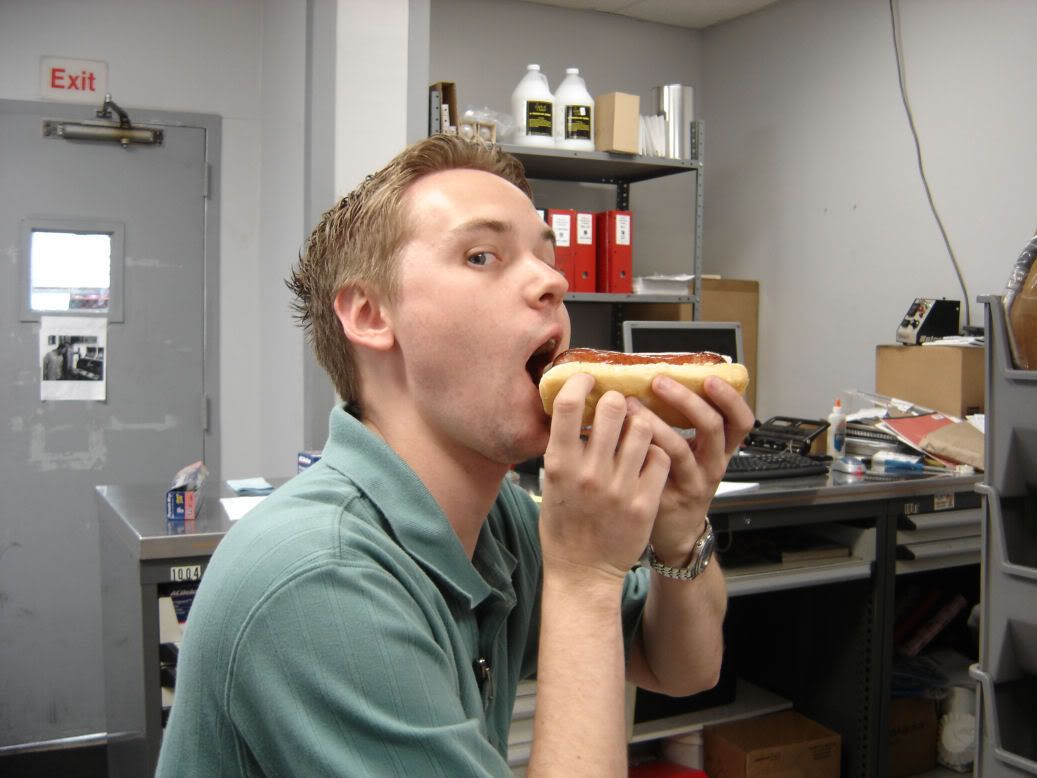 Check out this photo.... is it the heimlich? or violent prison style anal-rape? You be the judge.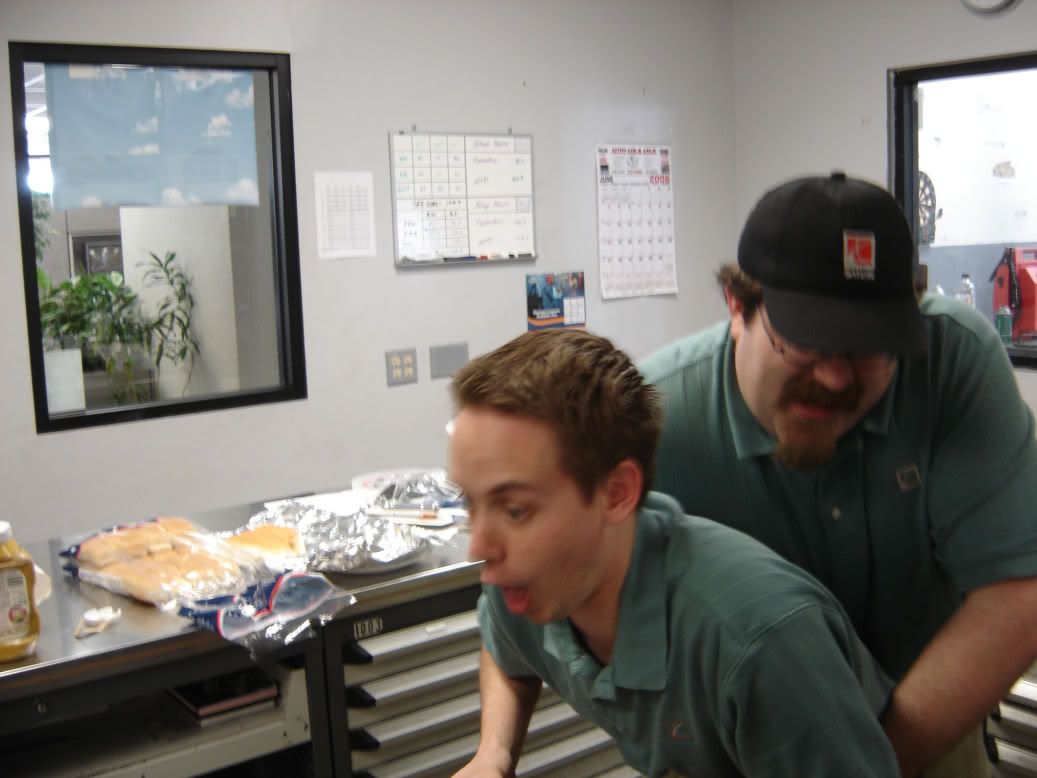 Keep on the lookout for "
lil smokey
takes on chicken" and perhaps "
lil smokey
and the woman that loved him"