Several weeks ago, I purchased a stock Phaeton antenna from a friendly local VW dealership.
Oh and how giddy I was, I would spend hours gazing at it lovingly, dreaming of the day I would get to install it. If only I knew the horrors I was about to (barely) live through... if only....
I had to wait a few weeks to get it painted, unlike most of my projects, this time I decided to let someone else do the painting. The problem with this was the fact that I only see my painter a few times a month. And God knows I hate waiting.
But two days ago, he finally dropped by, painted my antenna, and was on his way. I was left with a gleaming clearcoated thing of beauty.
And so, last night, I went about the install.
Let me tell you something, to date this is EASILY the most difficult, pain in the arse thing I've done to the .:R, if I had to do it over again, I wouldn't. Seriously, forget it, the mod came out really cool, but it really wasn't worth the hassle.
If you've read another DIY on this and they claimed it was easy... they lied. Maybe regular MKIV's are different, maybe only the .:R's are this difficult, maybe my car was malformed, a twisted aberration of nature, or maybe I'm just an idiot.
So here we go, the before. OEM base w/S2000 antenna.
My car is currently filty, I got stuck driving it through the rain the other day on the way back from a GTG at Starbucks, but even with the dirt check out how reflective the roof still is. Zaino FTW!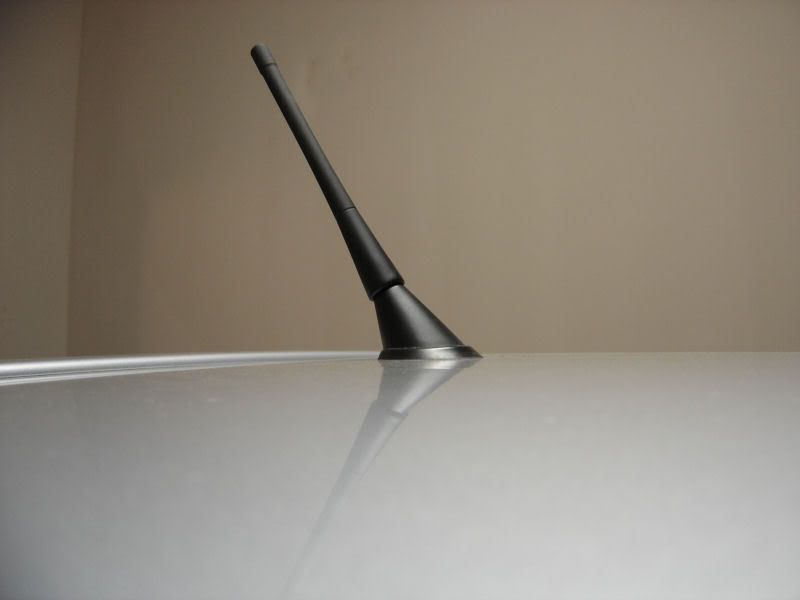 And here's the pile of parts to be installed. Painted antenna cover and base, (I removed the cover to make painting easier) humongous nut, and adapter cable. The cable is made by a guy on the Tex by the name of Stilljester, cool guy, his ad for the cables can be found in the Audio/Misc Classifieds, Paypal twenty dollars to him, and he ships you a cable, easy as pie.
(pumpkin pie is my fav)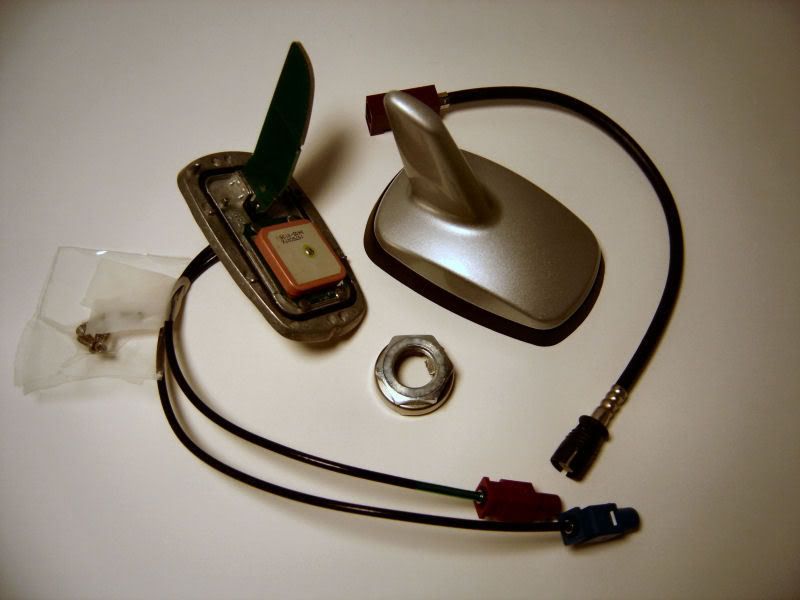 Alright, the first thing you have to do is pop your trunk. If you can't figure out this step you should just stop right now and kill yourself. Go ahead, I'll wait.
Now remove the upper rear most trim panel that runs between the c-pillars. They're held on by five clips, as illustrated by my cool orange arrows on the removed piece. Fans of the series will not doubt be familiar with the arrow motif, but the truely faithful will notice that instead of yellow or red, I'm using orange for this one. My newfound mastery of the color orange brings me just a bit closer to world domination.
Anywho, the clips... just be careful and they come right off, don't go all ape on the thing though or you're going to end up with a lot of broken plastic bits. And broken plastic bits are bad.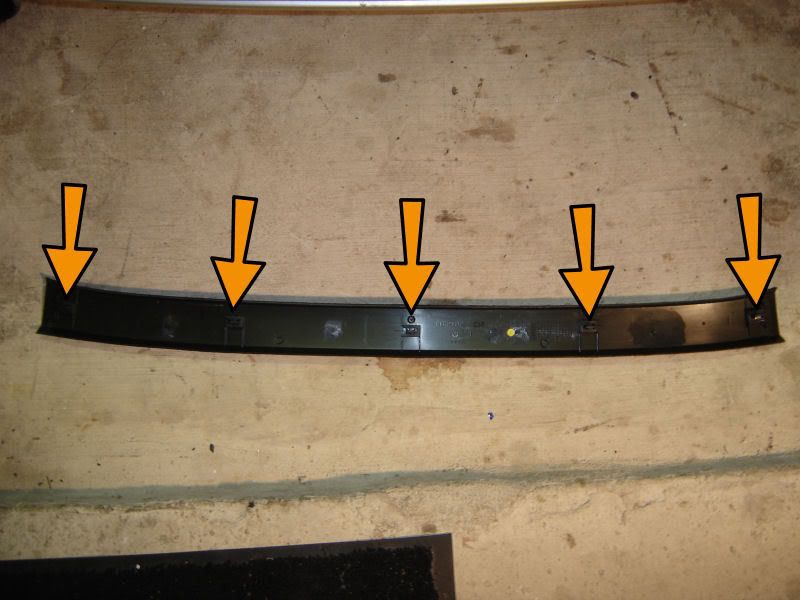 There is also a small white clip just off-center of the rearmost section of the headliner, this will just pop out without too much fuss. Again, just be gentle.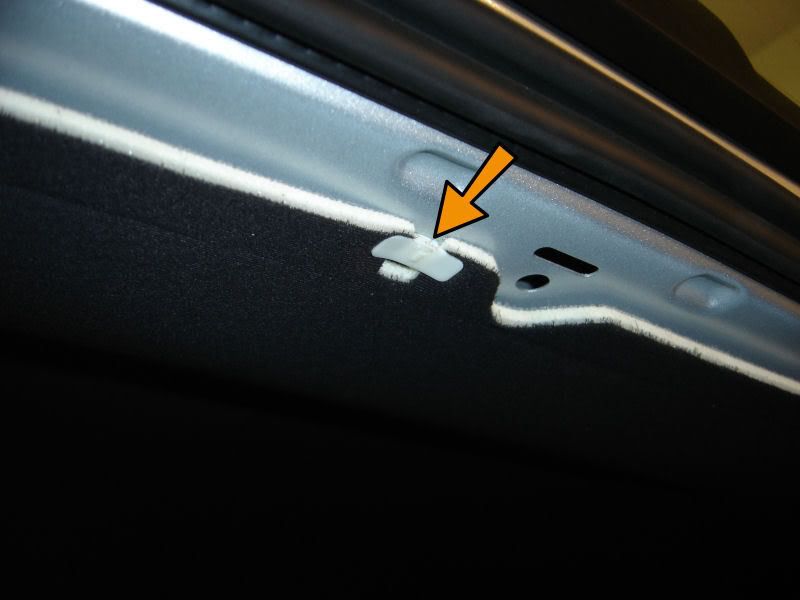 I also removed the upper rearmost sections of the c-pillars on both sides, they just pop off with little integrated push clips on the top, and smaller white "christmas tree" style retainers a bit lower down.
Then I wedged pieces of foam in the headliner and c-pillars to "hold-open" my new found work area. I thought that having the foam would free up much needed handage, and make my life easier. HA!!!! Even now I still chuckle at my own idiocy.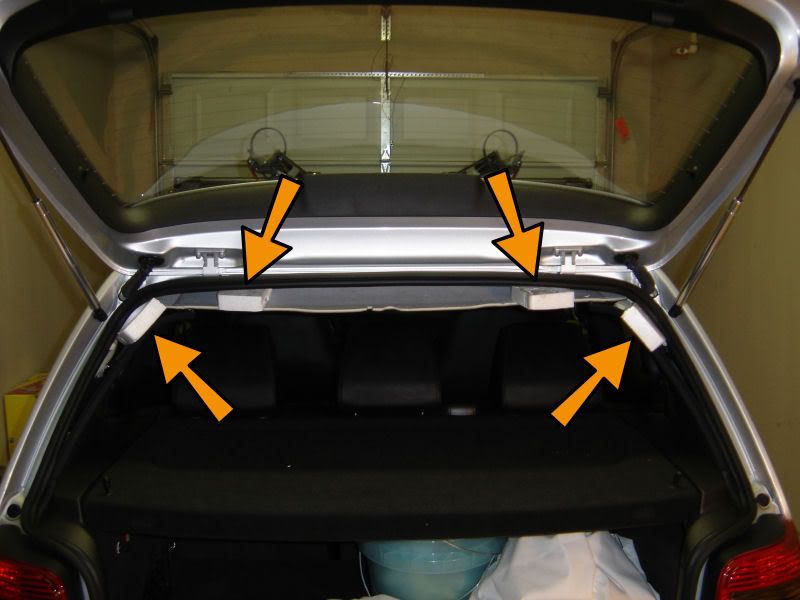 Oh here it is.... the piece... the piece that took away my will to live. As you can see, you don't have much room to work with between the headliner and the roof, and in between you and your target (the humongous nut) is this damned thing. It's the rear roof crossmember, but that's not what's important. What is important, is the fact that it was forged in hell by Satan himself (with Hitler at the bellows) of old rusted cheese graters and used meth needles. The morning was blackened by locusts and babies wept the day that this piece was pulled from the sulfurous fires of the underworld. It would be my greatest opponent for the next one-hundred and seventy two hours of battle.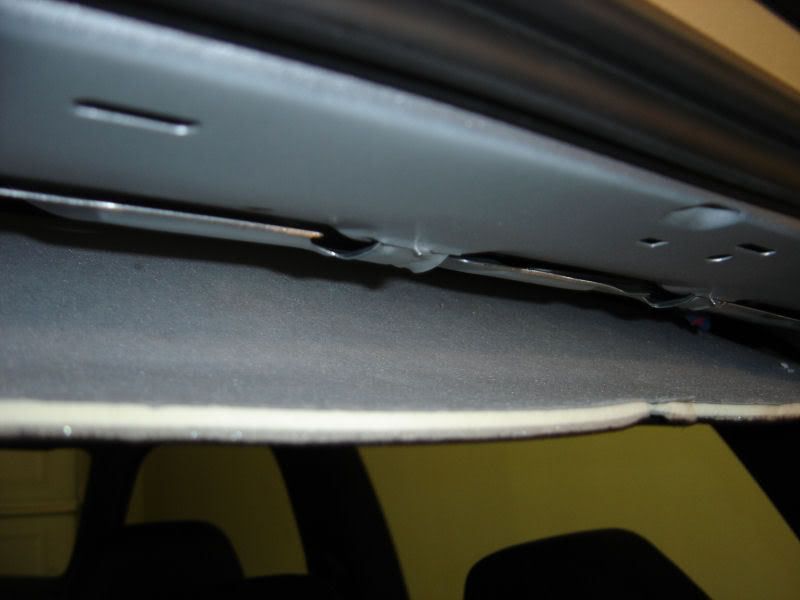 This is what you're digging for, the 22mm nut that holds on the antenna base. It's much like the Holy Grail of legend, rare, powerful, and with a history steeped in blood.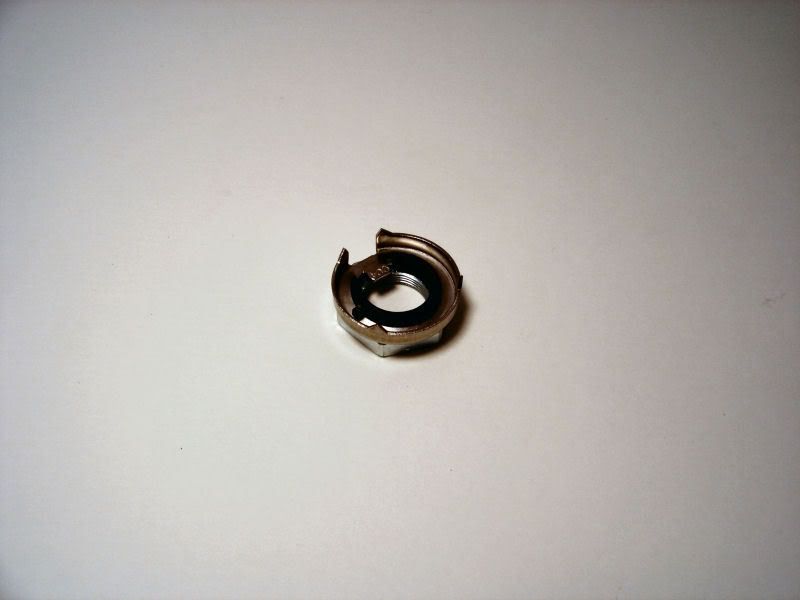 The problem of course, is that you have literally a maximum of two inches, and a minimum a half an inch of working room to wrangle this stupid nut free. And you constantly have to work past the crossmember of doom!
So (excuse my ghetto-ness) I used a cresent wrench to coax the nut to freedom. I'm usually very anti cresent wrench, but with such a small work area, a cresent wrench is much smaller than the correctly sized box-end wrench.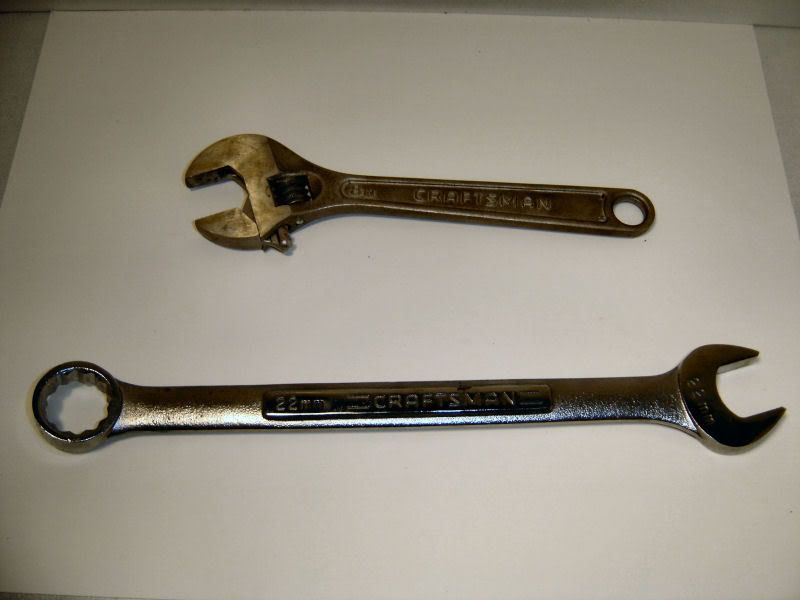 Random blood. (not the last to be sure)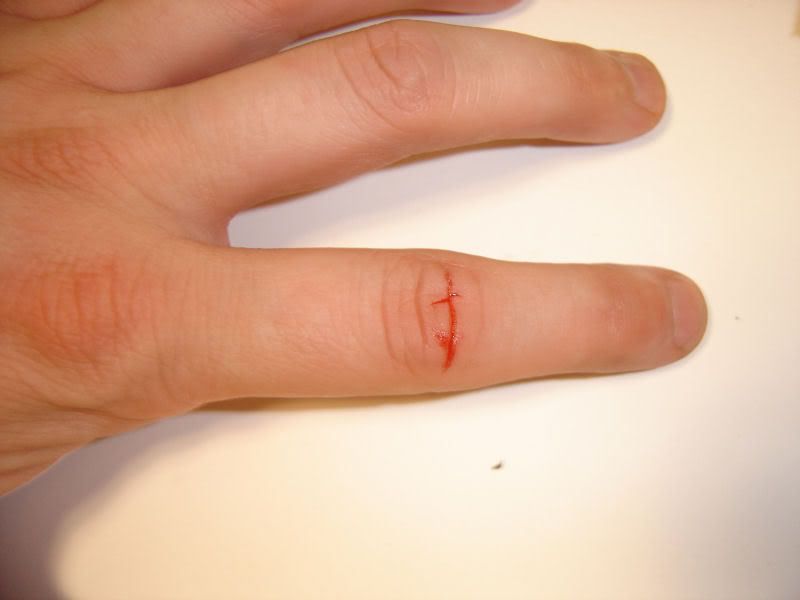 Once you have it off, you'll think your nearly home free. Pitiful human, you have no idea.
The first thing I realized (to my horror) is that the stock antenna cable runs INSIDE the crossmember of doom! You literally have to stick your fingers inside the devils member (the he) to try and wrangle this thing free, all the while trying desperately to not damage your very expensive headliner. This took me (honestly) at least an hour just to get the wire free and disconnected.
More blood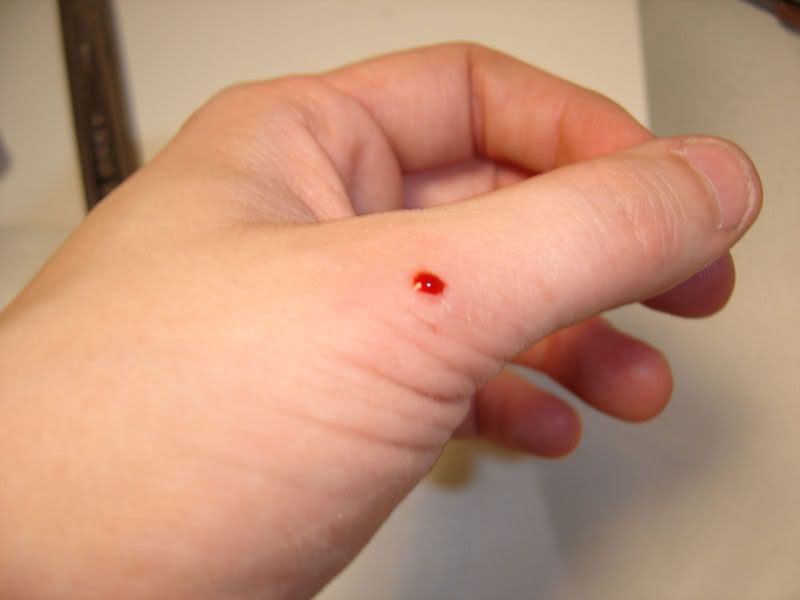 Now all that's left to do is install the new antenna. Ah, looking back, I remember thinking that I must be out of the woods by now, how delightfully naive I was, like a newborn babe perhaps. I miss my innocence, I really do.
I used a gallon sized ziplock bag full of sand to hold down the antenna while I gleefully sliced mysef silly trying to get the nut on. I cannot stress what a gigantic pain in the arse this was, I'm a patient man, a kind, gentle man, but I would have stranged a puppy if I thought that it would have helped. This session of masochism took another hour from my life (and pint of blood) that I'll never get back.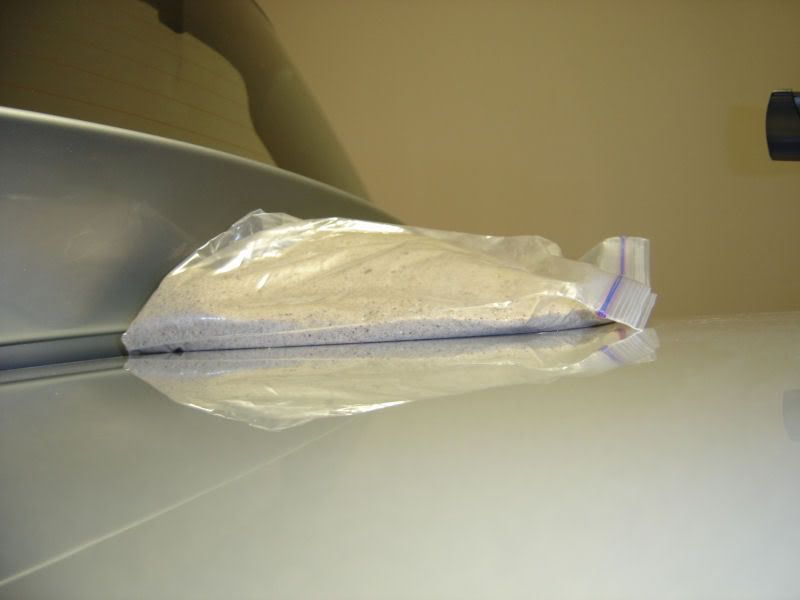 Check out what's left of my forearms. (pardon the blur, my girfriend was woozy from the blood loss just watching me work)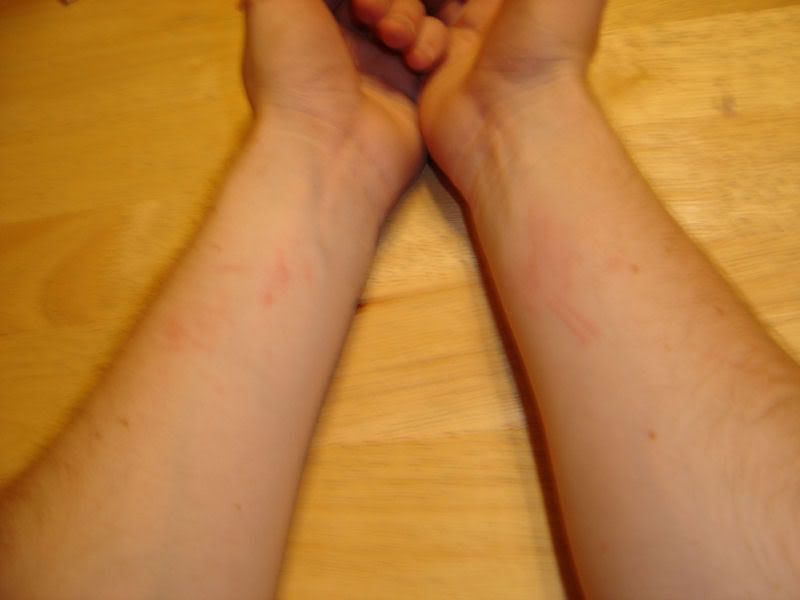 But here's the outcome!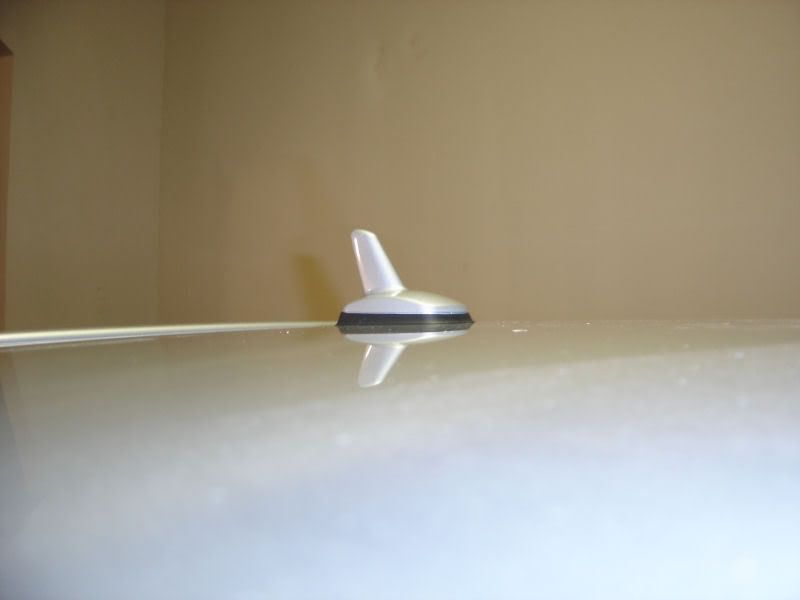 Was it worth it? No. Absolutely not. I mean it's a cool mod, and I'm happy with the end results, but if I was going to do it again I would just drop the whole headliner, it HAS to less of a pain in the long run, seriously.
Or maybe a sawsall, or a plasma cutter.