Due to somewhat popular demand, Is my $5 Dog Bone Mount!
The OG thread can be found here..
http://forums.vwvortex.com/zerothread?id=3075855
We all know that the stock rubbers in the Dog bone mount are flimsy.. Which lead to an array of problems such as tranny malfunctions, broken exhaust, the dreaded wheel hop, motor flop that affects cornering, etc, etc.. we all know the problems... And there are numerous ways to fix it as well. you can buy Poly inserts, new dog bones that plug n play, and the infamous windo weld from 3M to name a few... Well i did the windo weld thing and what a joke... i dont like poly because of their tendacy to malfunction or to bind, which left me looking for another solution!
Enter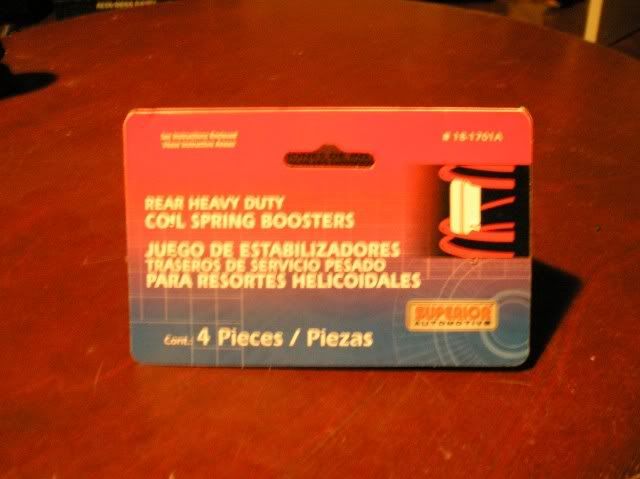 which i found at AutoZone for a Little under $6.
As you can see, It is close to the orginal OEM rubber in size.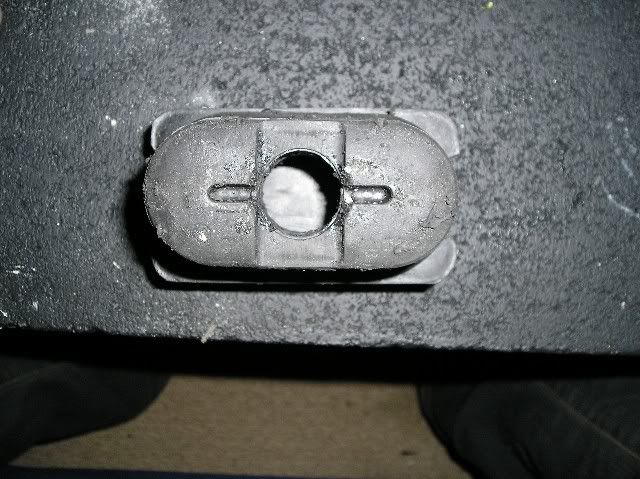 The OEM rubber sits on the Spring booster.
So upon inspection of the item, it is 100% rubber with lil to no flex what so ever! i thought, "what the hell!"
Took the item home and to my suprise, Damn worth ever penny and effort spent in making the Ultimate Dog Bone!
So here is what you need to have.
1. part # 18-1701a by superior automotive. your local auto store should have it or something similiar.
2. A way to access the bottom of your car, jack with a stand, lift, etc.(please no widowmakers.)
3. 16mm and 13mm sockets with wrench
4. razor blade, xacto knife, rotary tool, or what ever you think is adequate to cut the rubber coil booster to shape.
5. and 1hr of your time... depending on your skill level...
The Culprit
There are 4 bolts which keeps it intact to the car.
2-16mm bolts that go into your tranny and 2-13mm that attach to your subframe.
remove these bolts and the Dog Bone should come right out.
Now, there is a 16mm that holds the unit together.. remove it and you should have this:
Now take your OEM rubbers and place them on the top of the coil booster's. One Oem Rubber for 1 coil booster.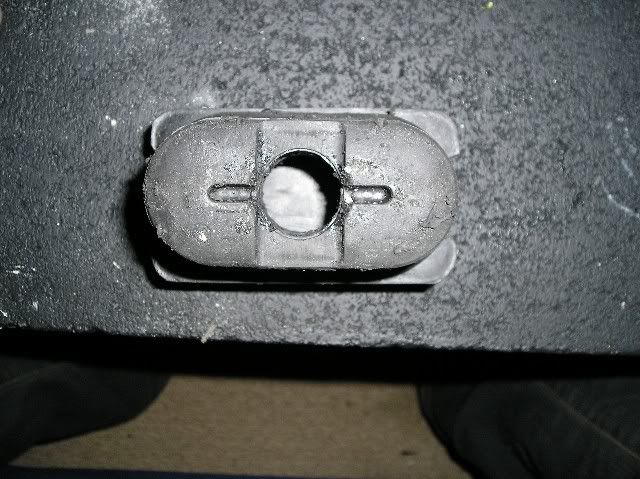 Now with a pen trace the OEM onto the coil booster block including the circle in the middle....
Once completed, use your razor blade, xacto, or whatever you think can get the job done and shape the booster to size!!
Now take the two cut/shaped boosters and apply them into your dog bone Rubber holder.. And remember this isnt a science project so looks are not important. :P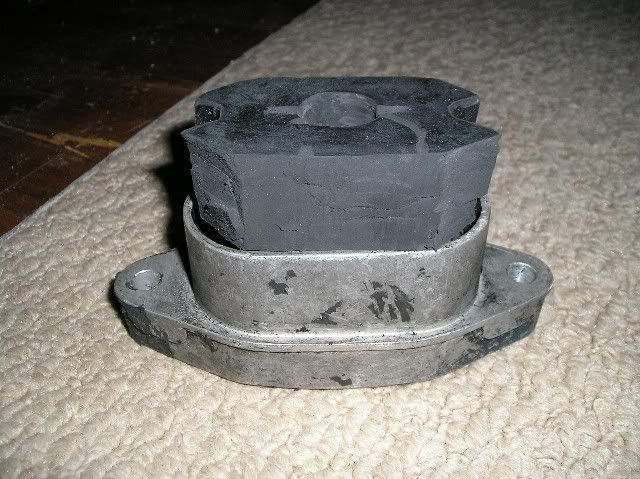 You may have to use your foot to get it to fit ...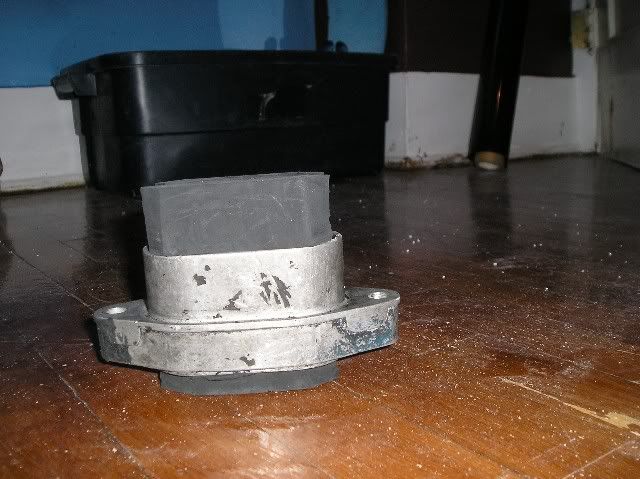 and there you go! dont forget to cut out the slits(which are on the oem rubber) for a secure fit!
Re-attach your 16mm bolt that hold the unit together... make sure you dont mount it backwards.. look at where the dog bone attaches to the subframe and you'll see the bolt marks.. also dont lose the lil Flat nut that locks onto the bolt that holds your dog bone together!
And your pretty much done!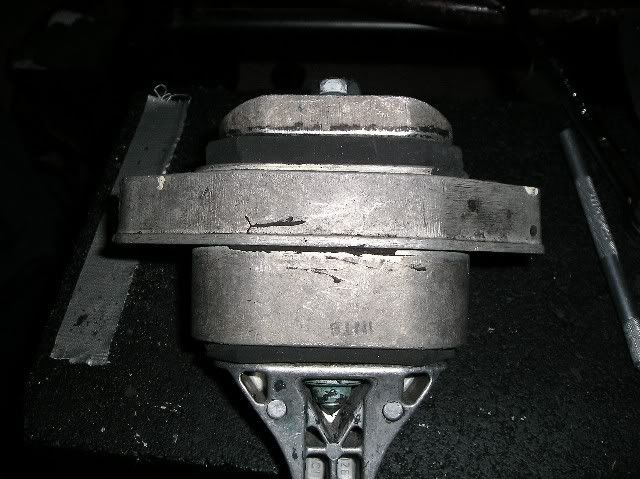 see how the NEW rubber takes up more area than the OEM Rubbers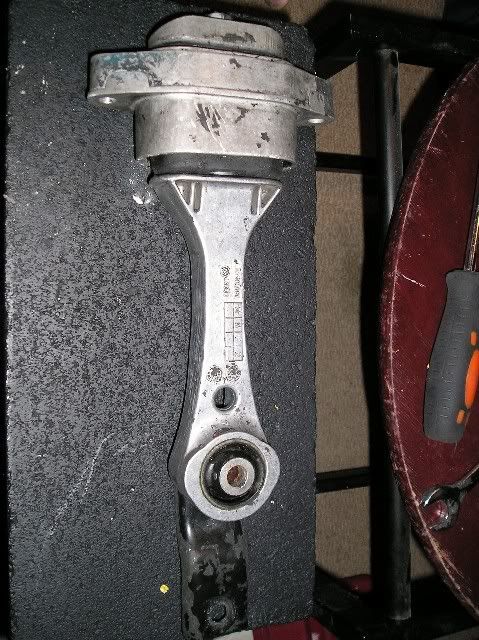 Now all you have to do is go and re-install the dog bone..
You may have to jack your motor a little to get the longer 16mm bolt to fit.
Also you will experince a slight vibration in your steering wheel at idle but that is the only negative, well almost negative.
The rewards are great... No wheel hop, no exhaust clanking underneath, corners much better, and very responsive.. Not bad for $6 bucks and a hour of your time.!!
I hope this helps out as much as it did for me!
And remember, This DIY is at your own risk....
Please if you do this mod(RonDog :laugh: ) i want to see some feedback!
Goodluck!
taken from VWVORTEX
http://forums.vwvortex.com/zerothread?id=3079642&page=1